welcome to joiner services
JOINER News
A Closer Look at Robot Programmer Jobs in Michigan
Robot programmer jobs are among the most in-demand positions for the industrial automation, manufacturing, and engineering services industry. This is because these jobs allow people to work all over the United States and even gives professional opportunities to travel the world, while making a great salary working in this fast-paced profession. Michigan has a large industrial manufacturing industry, which is led by the automotive industry, and it finds itself towards the top of the country when it comes to robot programming jobs.
Did you know?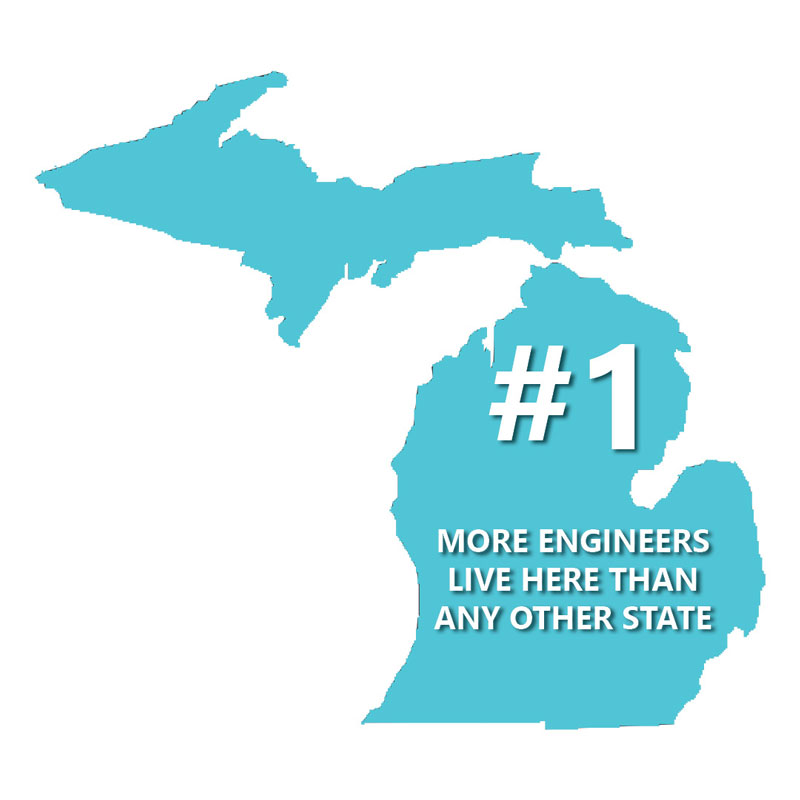 The main types of industrial robots:
While searching for robot programming jobs make sure you know what types of robots your potential future employer uses. This will help you determine which companies to apply for. Below is a list of robots often used in Michigan's industrial automation industry:
Adhesive / Glue / Sealing
Assembly
Machine Handling
Mechanical Cutting, Deburring or Grinding
Painting
Packing / Palletizing / Picking
Welding or Joining
Some benefits for those who want to get into robotic programming:
The job frequently offers the ability to learn multiple robotic systems or software, and often are working with the newest technology in the industry.
You may learn how to program different types of industrial robots depending upon your job.
Another great benefit of being a robot programmer is that programmers stay free from many of the responsibilities that come with regular 9-5 office job working at a desk all day, as usually they must be on the production floor supporting the equipment.
Many programmers enjoy the excitement and new challenges the job brings daily and are able to adapt their skillset to future projects.
The job often provides options to travel around the country or the world, especially if you do any type of contract work.
Learn about robot programming educational requirements for many jobs:
Robot programming jobs are abundant and a great career option, especially for someone looking to get into the industry quickly by receiving only a 2-year associate's degree from a college or university. With an associate's degree in robotics engineering, automation engineering, robotic technology or robotic technician you could be quickly on your way to a career in the automation sector. This is a career with a great deal of room for growth because the technology is constantly advancing.
The following colleges and universities in Michigan offer a major in robotics engineering, automation engineering, robotics technology or robot technician degrees.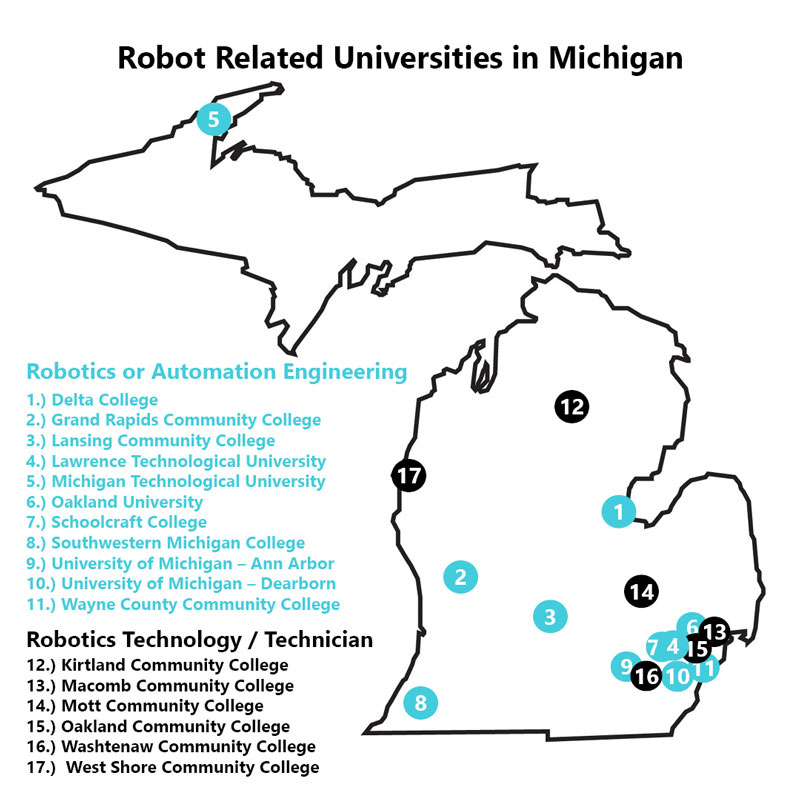 You may not even need a college degree to find a job!
Some robotic programming jobs require only specialized training or certifications, and others just require the programmer to only know the robot operating system. Many robot programmers get their start from job shadowing other professionals or by having a connection within the industry.  This is one job that does not require a degree to become extremely successful within the industry.
What should you expect to earn as a robot programmer?
Depending on your skill set, education, certifications, plus experience, robot programmers can earn a substantial salary. If you also are able to learn programmable logic control (PLC) and human machine interface controls, robot programmers can earn well into the six-figure mark. Below is an average expected salary for a robot programmer: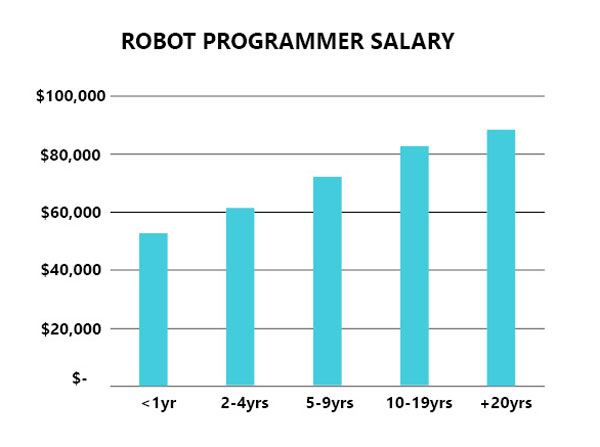 Can you handle high stress situations?
You should be able to follow instructions and work well under stressful conditions. Often programmers must get into a robot cell quickly, make slight adjustments, and then swiftly get out of the cell, as manufactures want minimal downtime on any production line. Handling high stress situations and programming speed are critical skills of all robot programming jobs.
Michigan has an abundance of robot programming jobs and with experience you can build a lucrative career.
If you have previous robotic programming experience, it will help your chances of getting hired, as robot programming jobs are also plentiful in Michigan. These jobs pay quite well and include a variety of work positions. This means that there will be plenty of job openings in Michigan because of the amount of manufacturing facilities located in the state. Many times, companies need these individuals immediately so they will hire contractors until roles can be filled.  Manufacturing companies also use places like JOINER Services which use independent contractors to fill temporary positions or help companies on contract for installation, service or general engineering support.
Here is a list of companies in Michigan looking to hire robot programmers: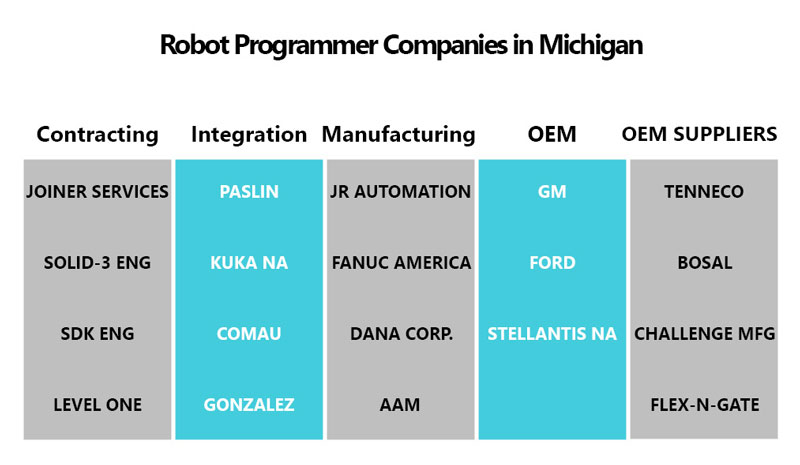 Be prepared to work for your employer!
People working in this profession can expect to receive a great deal of overtime work, if wanted. Many other fields do not offer overtime but because up-time, cycle-time, and run rates are so important to production, you can see why this is allowed, especially for those programmers who have proven themselves at a company.  Increasing your salary can be done quite easily in this field by adding only a few hours a week or working during a weekend. This fact alone is what makes this profession so attractive to so many robot programmers.
Are you interested in working as robotic engineering for a robot manufacturer?
Maybe instead of programming robots in a manufacturing plant you want to manufacture robots. You may be surprised to learn that Michigan has a handful of manufacturers located within the state. Below is a list of those companies: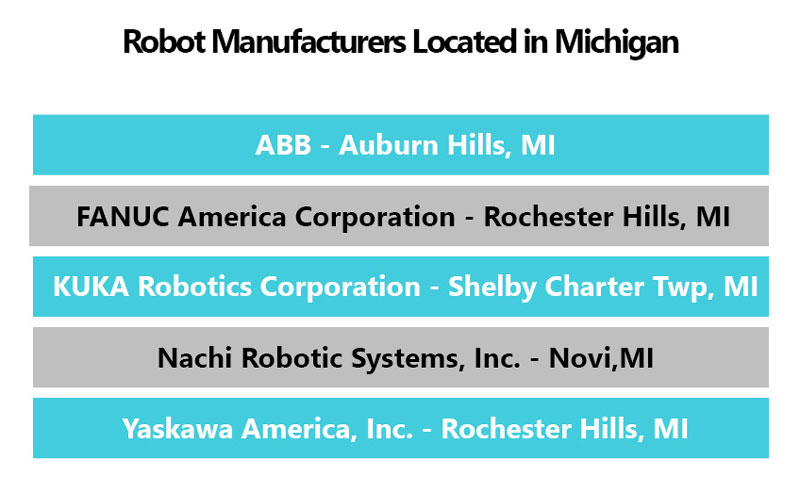 Find a company that will provide you with an opportunity to grow your career as a robot programmer.
Working as a robot programmer also means that you may have the opportunity to advance up the corporate ladder. While working at the company, you may be able to move up to become a senior level, team-leader, and eventually manager of the robot department. This advancement means that you will have more responsibilities such as having to train other employees, while continuing to perform at the level your company expects.
If you are looking for a career with only upside into the future, it is hard to beat the robotic industry.
In Michigan it is easy to find robot programmer jobs. All you need to do is fit the company's qualifications and be a hard worker. Many people have successfully landed jobs working in a variety of industrial sectors in the state of Michigan. It is as simple as finding the right company and what type of programming interests you.
Data Resources: