welcome to joiner services
JOINER News
Find Controls Engineering Jobs in Michigan
Controls engineer jobs in Michigan are plentiful, these jobs are not just in the traditional industrial automotive manufacturing areas of Detroit or the surrounding metro area. There are also controls engineering career opportunities all over the state of Michigan in the medical and aerospace industries. Jobs for these highly skilled professionals exist in both metropolitan areas and rural areas. Anywhere computerized automation is utilized, you will find controls engineering jobs in Michigan.
Did you know?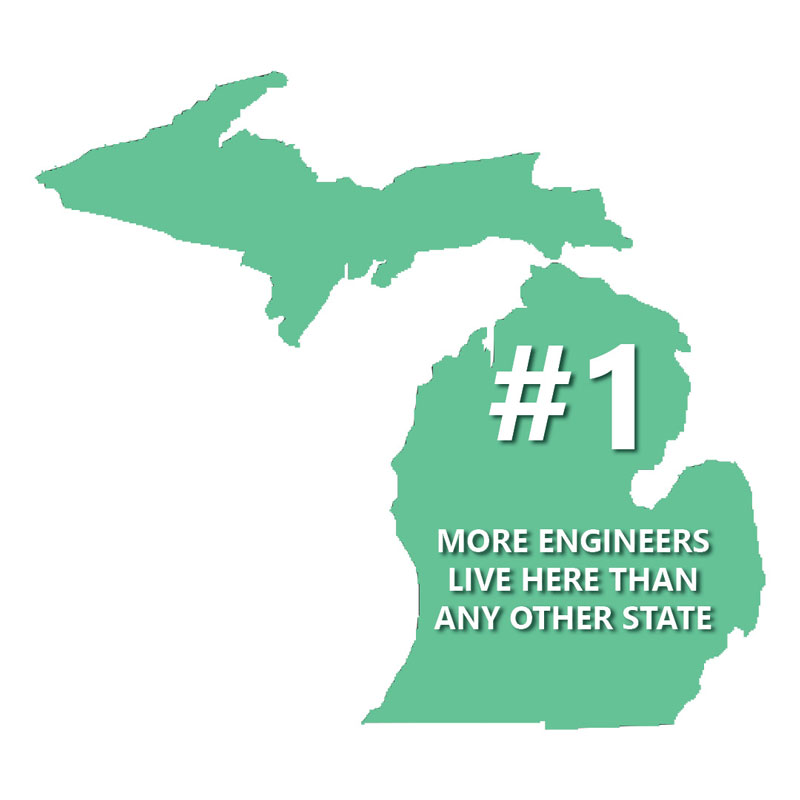 If the automation industry interests you, then you will need to learn the types of controllers used in the industry.
Programmable Logic Controllers (PLC) – are industrial computer controllers used to automate precise processes, assembly production lines and other machine functions.
Distributed Control System (DCSs) – communicate with industrial automation equipment by using computerized software and specialized hardware controllers that talk with a human–machine interface (HMI).
Programmable Automation Controller (PAC) – is an industrial controller that links the capabilities of a programmable logic controller with computing capabilities, all while operating multiple domains on one platform.
Learn about education requirements for some controls engineer jobs in Michigan:
The best collegiate programs will focus upon both theoretical and practical courses. Students will learn about electronics and control systems along with developing an understanding of computer and electrical engineering principles. A student can choose to specialize in one specific technology or elect to take more comprehensive automation courses.
In pursuit of a job as a controls engineer? Check out these colleges in Michigan that will help you achieve that goal.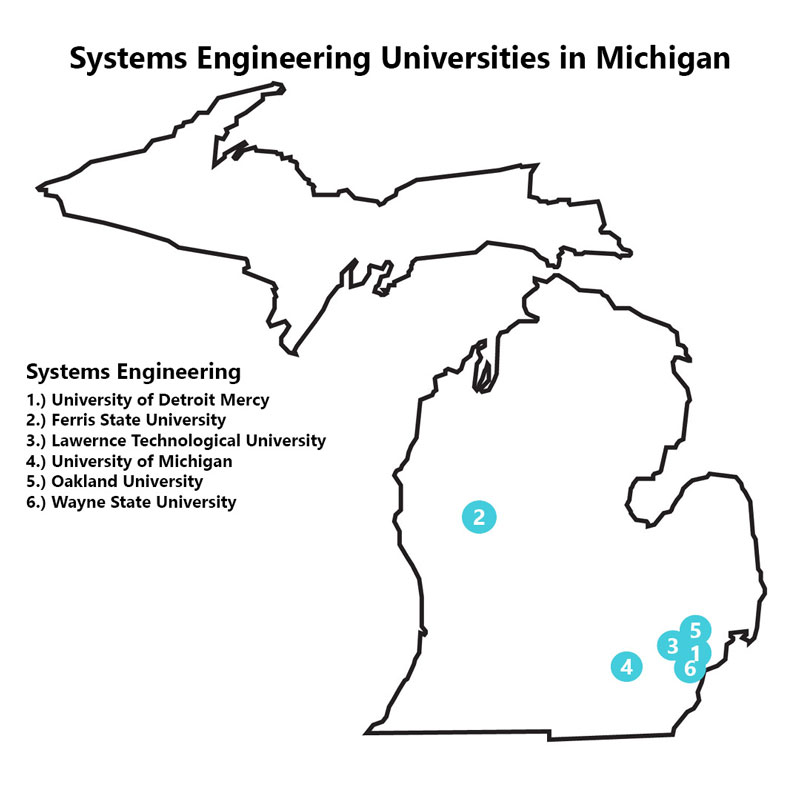 Your degree may not matter for this type of job.
Some controls engineering jobs in Michigan do not require a specific degree to get a job but many engineers often have a degree in systems engineering, computer science, electrical engineering or some type of industrial engineering degree. Individuals who have completed a degree and have some technical training program or experience in this field, can typically find jobs easily within the automation industry. If you are looking to start your career in contracting, look to JOINER Services to see how you can become a self-employed contractor and promote your engineering services on their platform in order to win more business.
Having experience or training as a controls engineer will help you find a job.
On-the-job-training, certifications, or prior work experience in the industry are how most controls engineers start in the industry. Certification of certain control structures are often required for specific positions at companies. Companies can require applicants to complete a training program that meets certain educational requirements. These courses can be incredibly challenging and time-consuming but may lead to better job opportunities in the long run.
The future is bright when working as a controls engineer.
The number of openings for this type of engineering position is expected to grow rapidly as the state and country grow in population and automation processes increasingly continue to advance in technology. New job opportunities are popping up all over the country as more people are interested in obtaining a position in this field. New graduates and experienced individuals can benefit from being a part of the increased number of openings, especially in Michigan which has such a large industrial manufacturing industry. Whether you are planning on relocating to the state or already living in Michigan but want a position in the field, you should consider looking for a job in the various industrial sectors.
What salary can you expect to earn as a controls engineer?
Contracting positions are some of highest paying controls engineering jobs in Michigan and those who choose to become self-employed often achieve even higher annual wages than national averages. You can also boost your salary well into the six-figure mark if you learn other skills such as robot programming or electrical engineering. Below is an average expected salary for a controls engineer: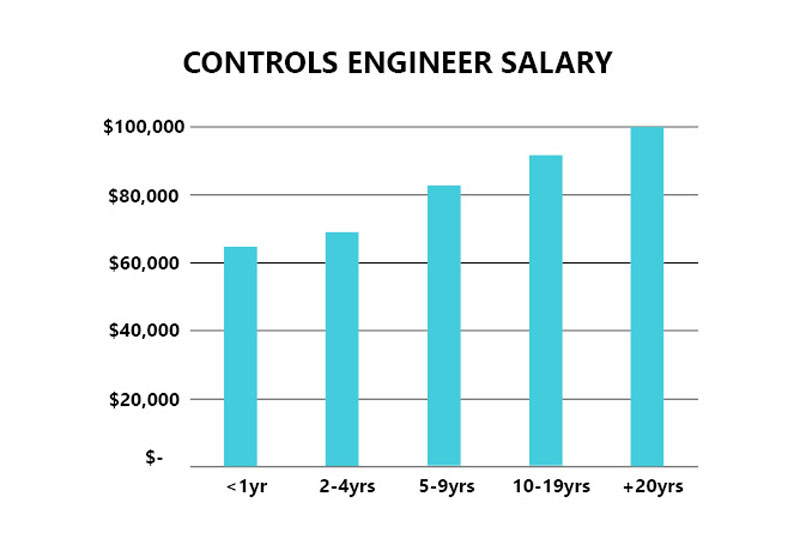 What are the job responsibilities of a controls engineer?
As a controls engineer, you could work closely with welding engineers, electrical engineers, and robot programmers. All are a vital link between various automation and joining processes, and the controls engineers job is to connect them together. Besides working on Program Control Logic (PLC) you may also be trained to operate Human Machine Interface (HMI) modules. Many controls engineers often have other critical duties or skills and many can operate basic functions of an industrial robot.
Design responsibility of controller systems.
Development and installation of control systems.
Programming of PLC, DCS, PAC, and HMI units.
Setup remote operations of automation processes.
Testing and validation of equipment, systems or processes.
Support the automation system.
Documentation of processes.
It is important that you know which skill structure your employer uses.
Every company uses a different skill structures, or computer language, for their automation processes. It is important that you know what these are prior to you applying for the job as some skills require certificates or external training prior to using them.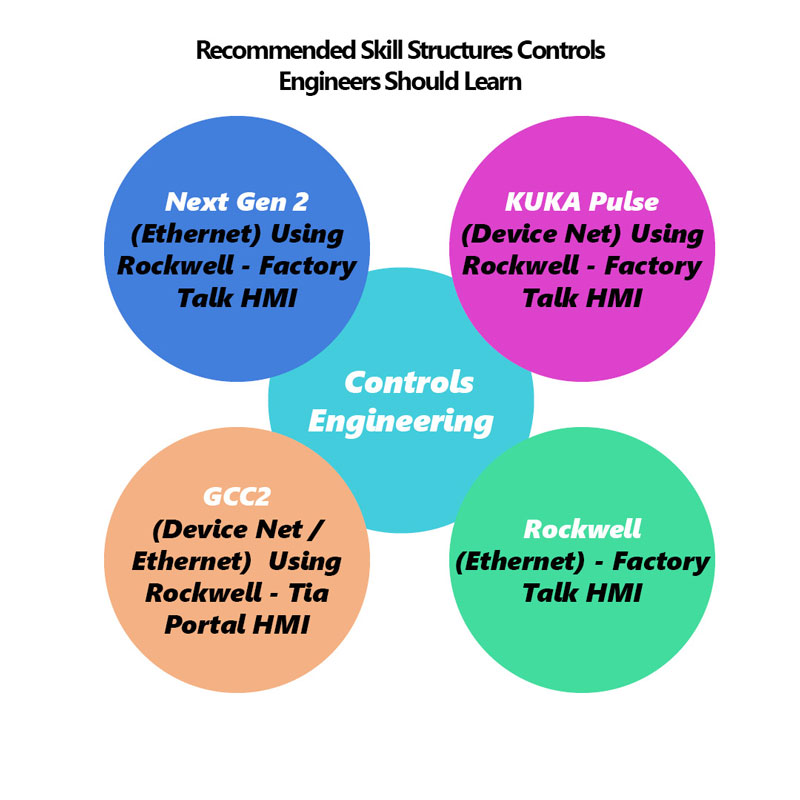 If you are looking for a career in the automation industry, Michigan has the jobs!
There are numerous jobs available in the field of controls engineering in Michigan, as well as many openings for control engineers throughout the United States, because of an increase in automation and automation processes. This creates a large demand for controls engineers, especially in the manufacturing sectors.
Looking for controls engineering jobs in Michigan? Take a look at these companies below.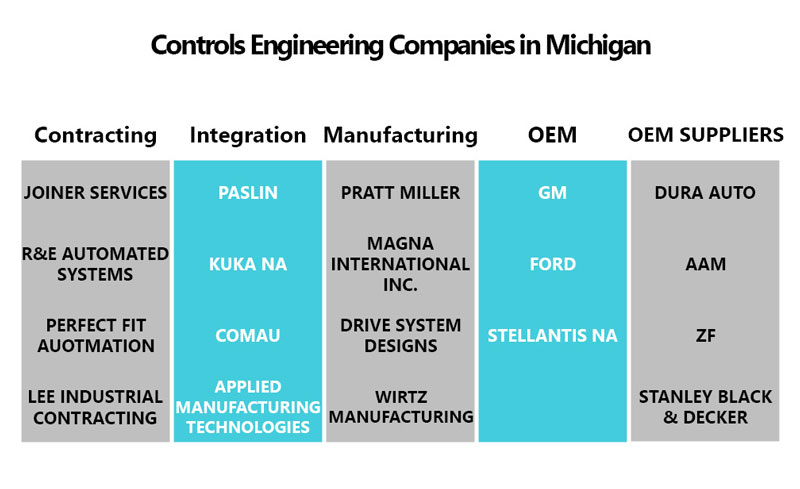 Installation and start-up of new equipment is a critical role for any controls engineer job.
A controls engineer in the manufacturing industry may be responsible for testing, design, and building mechanical systems for products, parts or full systems. These engineers often have a variety of job duties. They test machines, build prototypes, work on cycle times and troubleshoot complex mechanical systems. These individuals may also be involved in the design of manufacturing processes and may perform final tests before a product is released for production. Job requirements as a controls engineer can be exceedingly demanding but offer great career possibilities in a variety of industrial sectors in Michigan.
What are the four key requirements for installation projects?
Most control engineering installation jobs will require these four key components for any project. In order for the project to be considered a success, the four requirements that must be met are design, power-on, support and debug. If you can successfully complete all four phases of your project this will show your employer you are a valuable asset to the team and will quickly be able to move up through your organization.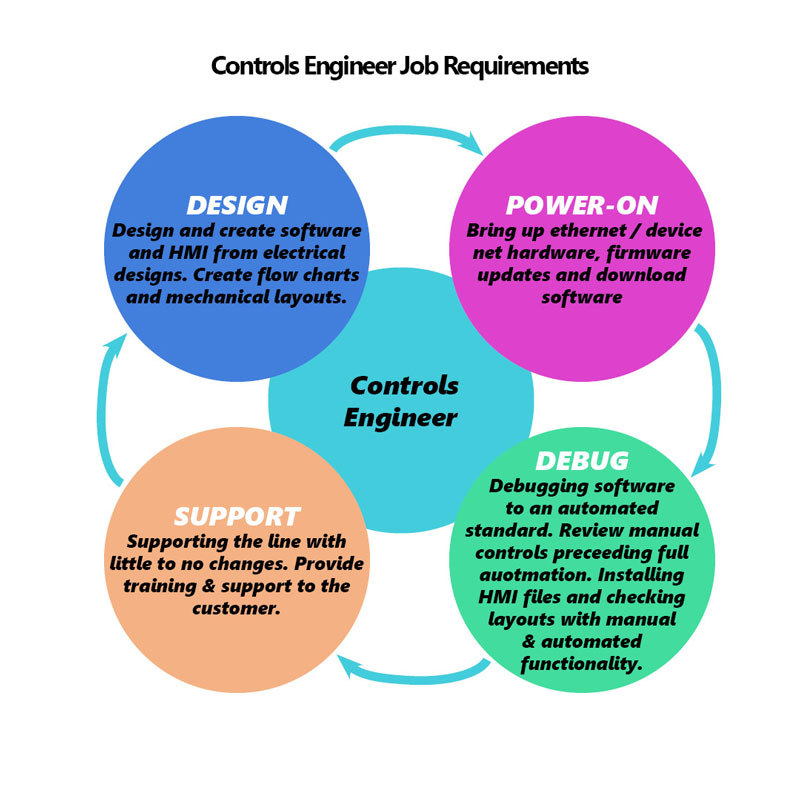 The future of automation in Michigan is bright!
Jobs in controls engineering in Michigan are abundant and continue to increase globally as the push to automate processes grows in almost every element of society. Those who thrive as a controls engineer will have their pick of jobs in the state of Michigan. Self-employed controls engineers are often some of the highest paid professions in the state because of the higher flat hourly rates they charge for their services. Look to promote yourself as a self-employed controls engineering contractor on the JOINER Services platform. At JOINER Services contractors can connect with new potential clients in Michigan or other parts of the United States.
Data Resources: