Electrical engineer jobs in Michigan are on the rise because electrical engineers are in great demand worldwide, especially in Michigan. Electrical power is vital, and electricity is essential to almost every product used in your life. From your light bulbs, television, or air conditioning unit in your home to your personal computer and the radio in your car, all of these items you use daily run on electrical power.
Everything from controls, power, electronics, communications, computers, and automobiles uses electricity in manufacturing. For these reasons, Michigan's demand for electrical engineers has been very high. Let's now review the electrical engineer salary in Michigan.
Did you know?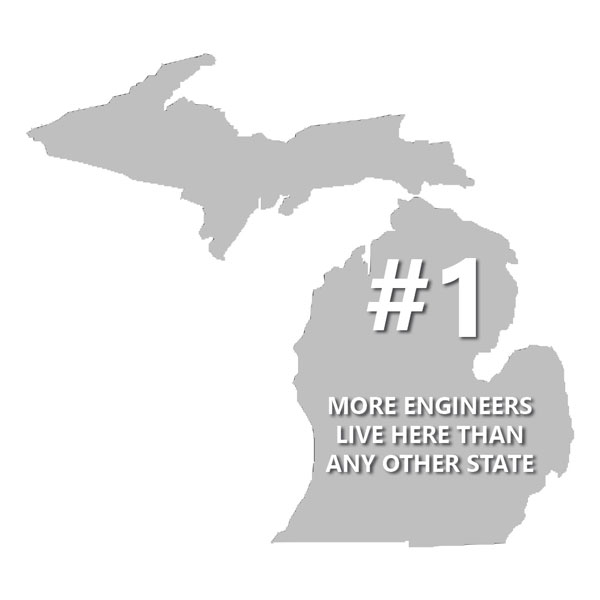 Types of Electrical Engineering:
Before you start your bachelor's degree education, knowing what types of specialized electrical engineering categories interest you is essential. This will help guide you when selecting your profession when searching for post-education engineering jobs.
Electrical Engineer Specialties:
Power Systems
Electronics
Controls
Microelectronics
Communications
Computers
Instrumentation
Signal Processing
Electrical Equipment
Electrical Engineering Education Requirements:
Almost all electrical engineering jobs in Michigan will require some form of degree in an electrical field of your choice. Michigan is one of the best engineering states in the country to get a degree in electrical engineering because of all of the great job opportunities the state has to offer.
Are you looking for a degree in electrical engineering? It would be best if you thought about these great colleges in Michigan.
The schools listed below have some of Michigan's top electrical engineering programs. These universities are located all over the great lake state.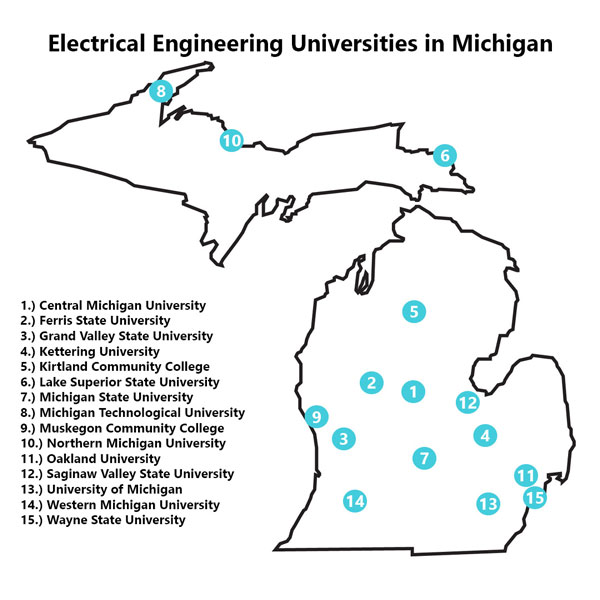 Electrical Engineering Degree:
To stand out as an entry level electrical engineer from other graduates, you must have the proper education and preferably a bachelor's degree from a university in Michigan. Additional skills like training and possible certification may be required depending on the job you are applying for.
To be competitive in the job market, you may also have to be accredited by the proper organization. The type of degree you get in electrical engineering is also crucial in determining the electrical engineering salary range. While it's always good to have a general engineering degree, having a master's degree is a definite plus if you want to beat the national average median annual salary.
It is rare to find an excellent electrical engineer salary in Michigan without a bachelor's degree requirement. Most jobs want at least a few years of experience besides educational needs. Take your time and consider your options before deciding on the right path, as there may be better fits with your electrical knowledge and skill set than the highest-paying salary.
Michigan ranks in the top five states for electrical engineering!
Let's take a quick look below at the electrical engineer starting salary numbers for the state of Michigan. These entry-level electrical engineer salary estimates were based on reported cash compensation plus bonuses in 2020-2021.
It is also essential to distinguish the average electrical engineer salary from the job title compared to computer engineering job titles. Computer engineers earn an average higher wage than their industrial engineering counterparts. The average median salary depends on the electrical engineer's actual job and the internship-level jobs under the engineer's resume.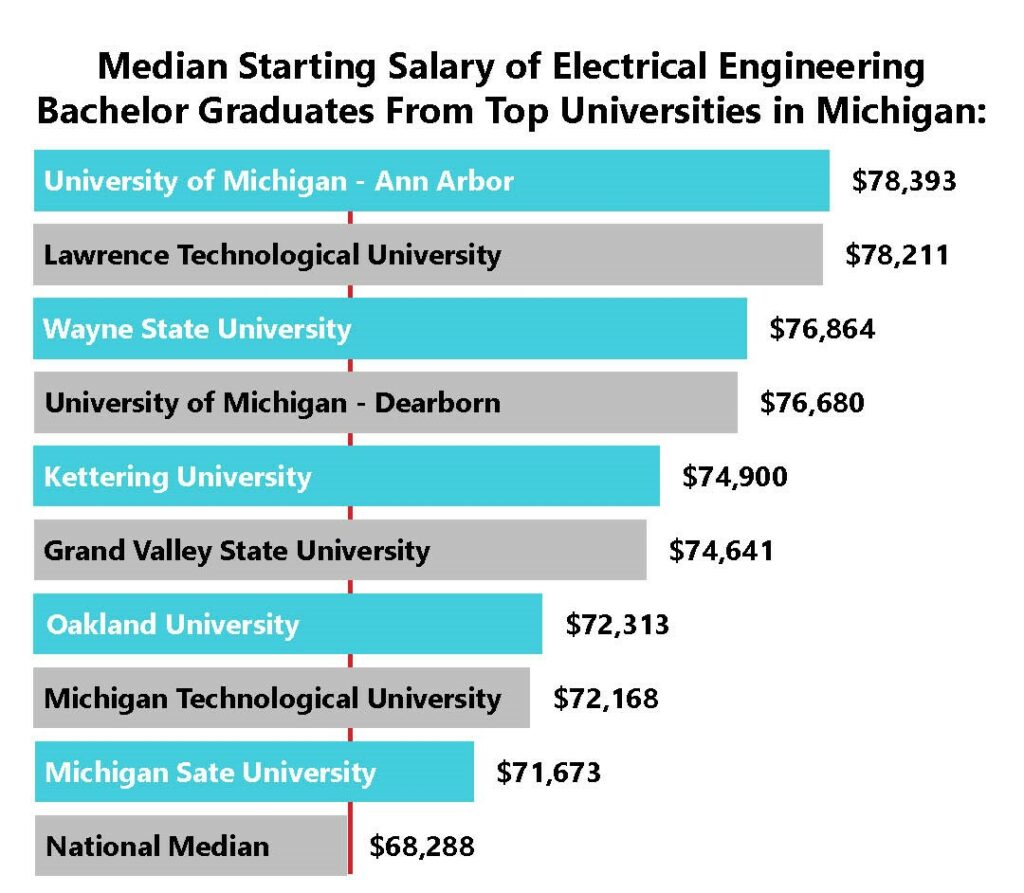 As you see from above, the estimated salary for a bachelor's degree in electrical engineering can be ten percent higher if that degree is received from a university in the state of Michigan. Many degree graduates from Michigan universities outpace the national average salary from college.
If you want the highest salary, you might need to further your education with a master's or doctorate degree.
In Michigan, having a master's or doctorate depends on the job and what sector or industry you choose to work in. You must have the relevant training, skill, or education when specializing in electrical engineering.
Being a technician or an engineer is great, but being an expert with a master's or doctorate in a specialized field is where the highest salary can be reached. If you choose to further your education beyond a bachelor's degree, pursue it in an engineering sector where you know you will enjoy working.
Very rarely does youth beat age in this industry, so if you want the higher wages, first you'll need to gain some experience.
Another factor that adds up to an increase in an electrical engineer's salary in Michigan is the number of years of experience in their chosen career. Experience is one thing, but being in a specific field for an extended period is even better.
Being in the business for decades will positively affect your resume by becoming a senior electrical engineer. Plus, the more years of experience you have under your belt, the more likely you will have job offers from various companies willing to offer higher wages than possibly your current employer.
Types of electrical engineering jobs in Michigan:
Below we list the many types of electrical engineering jobs available in Michigan.
Mechanical Engineer
Software Engineer
Controls Engineer
Computer Hardware Engineer
Controls Engineer
Aerospace Engineer
Electrical Design Engineer
Electrical Controls Engineer
Electrical engineer salaries in Michigan.
After you achieve a degree in electrical engineering, you can show your employer you can be a practical electrical engineer and expect to be paid very well. The bureau of labor statistics states that the average electrical engineer salary is around $100,400 in the United States. However, in Michigan, the average is just over $97,700. Contract electrical engineers and hourly employees often earn more because of overtime and the type of projects they work on that require more than 40 hours a week.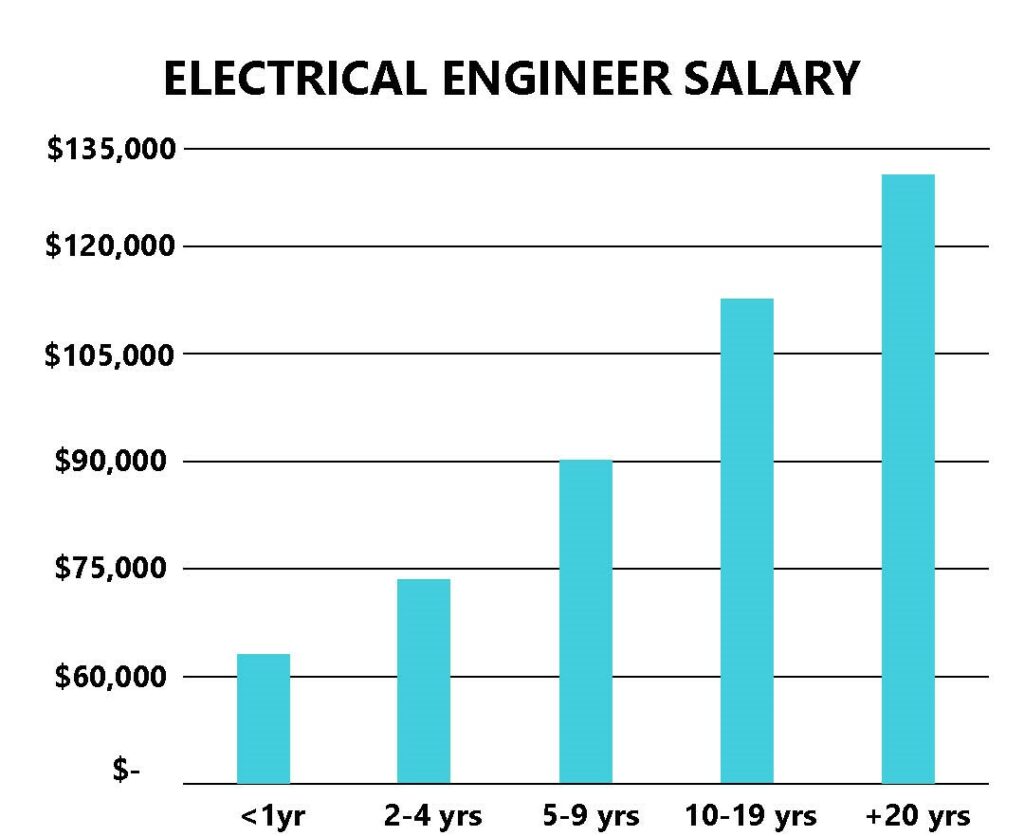 Your electrical engineer salary can depend upon where you live.
Several factors can affect the average electrical engineer salary. The location of your workplace is essential, whether or not it's part of a metropolitan area or if it's more rurally localized. For example, metro Detroit and Grand Rapids have good salaries because numerous residents live close enough to work. As with most other cities, however, it's also easier to find higher-paying positions if you're willing to relocate to other parts of Michigan.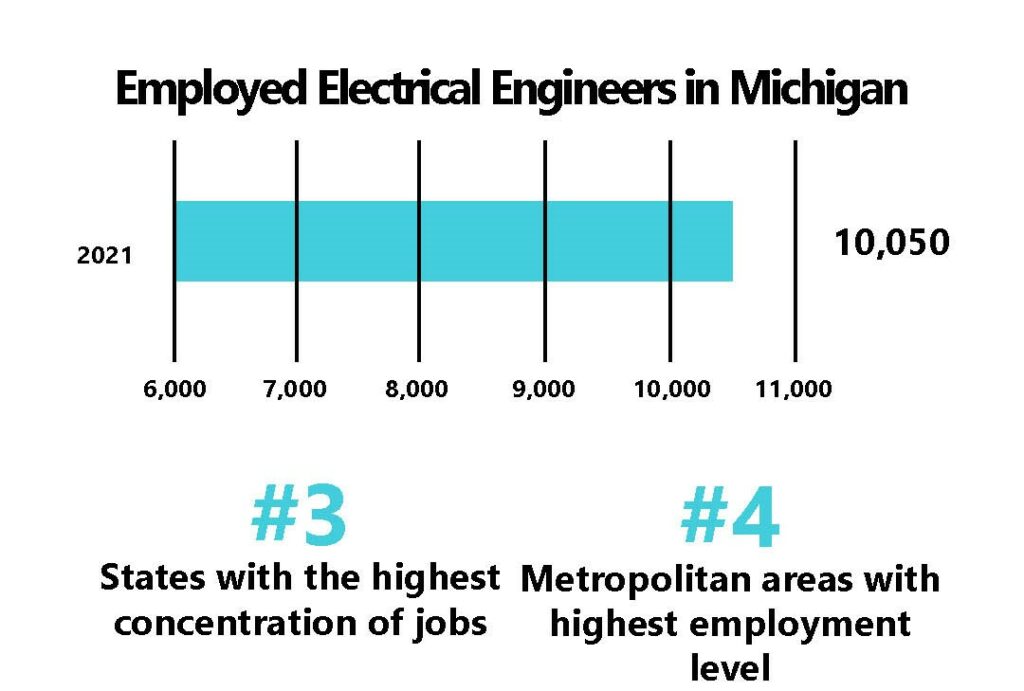 Find Electrical engineering jobs in Michigan:
Get a degree from a university in Michigan, as this will almost guarantee a higher salary than the national average directly out of college.
Pursue further education, either with a master's or doctorate in electrical engineering, or complete a certified course or licensed exam in electrical engineering.
Build a strong base of electrical knowledge, skill, and experience in a short time through contract engineering as an electrical engineer.
Find positions that will lead to a management role within a company.
A positive attitude and great work ethic will show your boss that you are a valued asset that the company must retain, so when it comes time to get a raise, your results will speak volumes.
Finally, you will need to gain real-world experience and years in your field to help you reach the very top salaries in the industry.
Some of the world's top automation, technology, and manufacturing companies, call Michigan their home. Finding work as an engineer can sometimes be difficult, but with a degree in electrical engineering, you can find jobs in Michigan.
Best electrical engineering companies to work for in Michigan.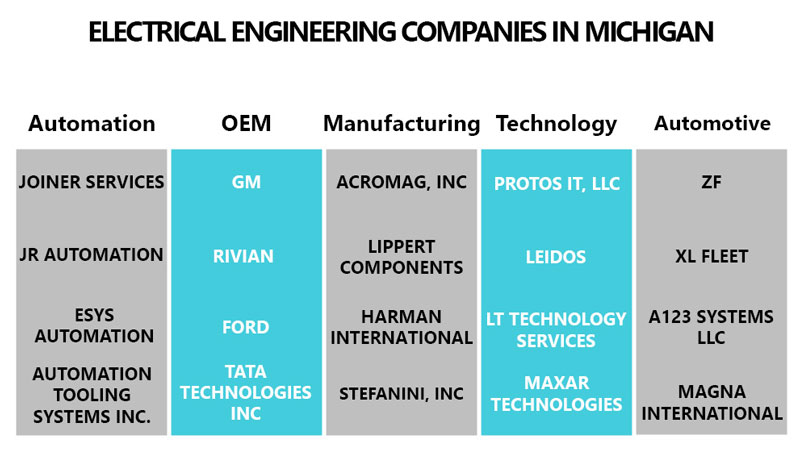 Electrical Engineering Career Path in Michigan.
As you consider different organizations and review job descriptions, you need to determine where you see yourself working. Is it in an office, or do you prefer a more hands-on approach? Suppose you enjoy a more hands-on approach and seek a more challenging profession. If so, consider working as a contract electrical engineer through engineering service platforms like JOINER Services. Contractors generally work for multiple companies in a short amount of time and can quickly build an impressive resume.
Consider becoming a contract electrical engineer if you want a more challenging profession. These jobs pay well in Michigan. Many engineers choose this field because they provide plenty of adventure within the state, gives opportunities to travel around the United States, and even the possibility to work around the world
FREQUENTLY ASKED QUESTIONS:
What is electrical engineering?
Electrical engineering is a branch that deals with studying and applying electricity, electronics, and electromagnetism. Electrical engineers design, develop, test, and supervise electrical and electronic equipment manufacturing and systems, such as power generation and distribution systems, communication systems, control systems, and electronic circuits.
Electrical engineers work with various technologies, from small electronic components and microprocessors to large power transmission systems and renewable energy sources. They also use their physics, mathematics, and computer science knowledge to solve complex problems and improve existing electrical technologies. Electrical engineers work in many industries, including; automotive, aerospace, defense, energy, telecommunications, consumer electronics, industrial manufacturing, and many more.
Is electrical engineering a good career choice in Michigan?
Electrical engineering can be a great career choice for individuals interested in working with electrical and electronic technologies, have a strong background in mathematics and physics, are good with troubleshooting, and enjoy challenging work.
Below we list four reasons why electrical engineering can be a good career choice in Michigan:
Lots of job prospects: There is a high demand in Michigan for electrical engineers across various industries, including automotive, aerospace, defense, energy, telecommunications, and consumer electronics.
High earnings potential: Electrical engineers typically earn well above other engineering salaries in Michigan, and they have the potential for further increases as they gain experience and advance throughout their careers.
Career opportunities: Electrical engineering jobs in Michigan offer a wide range of career paths, from design to installation or new technologies. Michigan has lots of electrical engineering employment opportunities.
Continuous learning: Electrical engineering is a constantly evolving field, which means engineers always have opportunities to learn and stay up-to-date with the latest technological advancements.
Why is electrical engineering necessary?
Electrical engineers are vital because they play a critical role in designing, developing, and improving many electrical technologies, components, and systems. They are essential to advancing many industries and society's overall progress.
Below are a few reasons why electrical engineers are critical to your daily life:
Electrical engineers work on the electrical power grid that provides electricity to homes, schools, shops, and businesses.
They develop communication systems such as cell phones, internet networks, computers, radio, and television broadcasting.
Electrical engineers develop the technology that powers life-saving medical equipment, devices, and machines.
They built the electrical systems used in transportation, such as the electrical controls in cars, trains, boats, and planes.
Electrical engineers built electronic security systems that protect your home with cameras, alarms, and sensor systems.
They help design innovative renewable energy technologies, like solar panels and wind turbines.
These engineers have built home appliances such as refrigerators, air conditioners, heaters, and washing machines.
Electrical engineers are involved with the entertainment systems like televisions, sound systems, and gaming consoles.
They also work with lighting systems that provide safe and efficient lighting for homes, offices, restaurants, and outdoor spaces.
Are electrical certificates worth it?
Electrical certificates can be worth it for individuals who want to enhance their knowledge and skills in electrical engineering or those who wish to pursue a specific specialized engineering area. However, the value of electrical certificates may depend on various factors, like the type of certificate and the reputation of the institution offering the certificate.
However, it's important to state that not all electrical certificates may be worth it. Some certificates may not be recognized by your employer or may not provide a significant return on investment regarding career advancement or salary increase. Before pursuing an electrical certification, it's essential to conduct thorough research and consider factors such as the cost, time commitment, and potential benefits to ensure that it aligns with your electrical engineering career goals.
Below are two main benefits of earning an electrical certificate:
Increased knowledge or skills: Electrical certificates can provide individuals with in-depth knowledge or skills in specific electrical engineering criteria, which can be helpful in their current or future careers.
Career advancement: Electrical certificates can help advance an individual's career by demonstrating their commitment to professional development and willingness to acquire new skills.
Data Resources:
Check out these other great articles!
Find Engineering Contract Jobs:
More Engineering Service Resources: