welcome to joiner CAREERS
Robot Programming Careers
We support self-employed contract robot programmers with a great platform that highlights their individual robot programming talents
As the automation industry grows and more manufacturing industries venture into the robotics field, the need for skilled contract robot programmers is increasing globally. Programming robots is a skill that can provide someone with a lifelong career in the automation industry. 
Build a network using the JOINER Services platform and boost your career as a self-employed robot programmer
OUR EDUCATIONAL REQUIREMENTS:
4-YEAR BACHELOR'S DEGREE
Robotics Engineering
Automation Engineering
Computer Engineering
Robotic Systems Engineering
Software Engineering
2-YEAR ASSOCIATE DEGREE
Robotics Technology
Robotic Technician
ROBOTIC CERTIFICATION
From an accredited program
OR +2 YEARS OF INDUSTRY EXPERIENCE
Interested in programming robots as a contractor?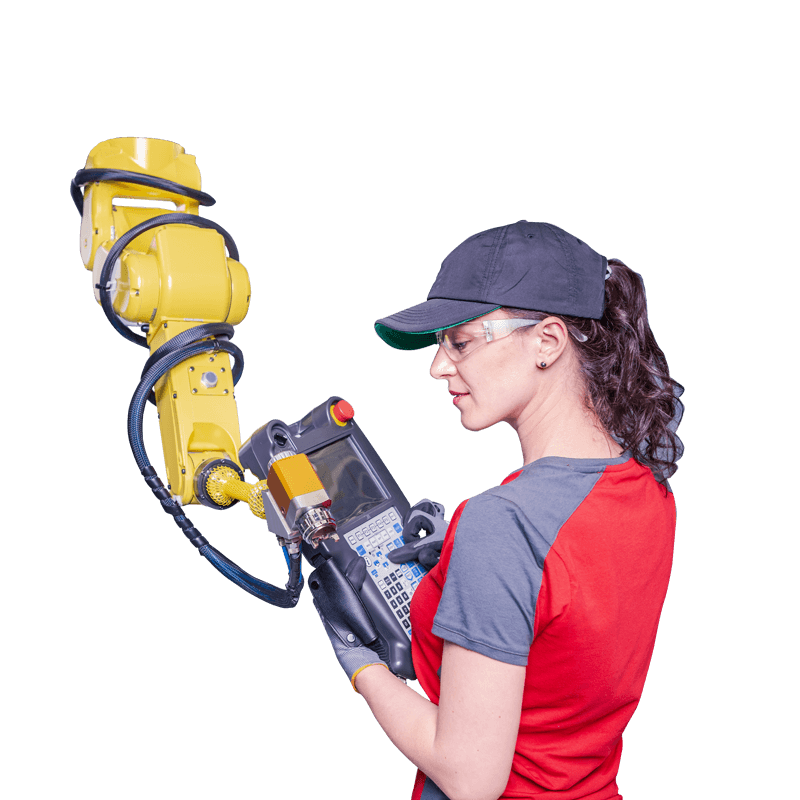 You will be responsible for the clients' robotic programming projects
Our robotic programmers must have some experience with programming the most common industrial robots:
ABB
Comau
Fanuc
Kawasaki
KUKA
Yaskawa
Nachi
It may be beneficial also to have Cobot experience with:
Must have program application experience with:
Adhesive / Gluing / Sealing
Assembly
Machine Tending
Material Handling
Mechanical Deburring / Cutting / Grinding
Painting
Pick & Place
Packing or Palletizing
Welding / Mechanical Joining
Visual Inspection
Robot programmer jobs listed in our engineering service platform are available for engineers who have the specific application skill or robotic systems experience requested by the client. In addition, as robotic automation increases in manufacturing, the demand for experienced contractors, who understand how to program an industrial robot, will be abundant.
ROBOT PROGRAMMERS ARE TIMING ORIENTED AND EXTREMELY FOCUSED
AID IN DESIGN
Some robot programmer jobs may be asked to assist the client with designing robotic cells or robotic systems. They will need to understand how the robot works and envelops the manufacturing layout. It is the engineer's job to understand the general movements of the industrial robot to help the machining workflow of the robotic application.
ROBOT SIMULATION
Understanding the movements of the robot is critical. A robotics engineer may work with a software engineer to pre-install automation simulations. These robot programs can be created and tested before installation. 
START-UP
After an industrial robot is installed and software is downloaded to its interface, the robot paths must be created and touched up according to client specifications. A robotics engineer or robotics technician will be responsible for ensuring the robot system is functioning properly.
INTERFERENCE ZONES
The main job of a robot programmer is to make sure the robot does not crash into people or objects. This can be done by having the engineering professional set up interference zones to keep the client's machine safe. Interference zones are safe and unsafe areas where and when a robot can work during the automation process. 
CYCLE TIME
In every robot programming job description, cycle time will be mentioned. Every robot must operate as efficiently as possible, and it is the job of the robotics engineer to make sure this happens. Each robotic application and robotic systems are different, but improving cycle time in the robotics field is a skill that must be learned. 
TRAINING
Contract robot programmers may have to train a client's robot technician staff or other engineering employees. These engineers must train the organization on the robot programs and the complexities of the robotics technology.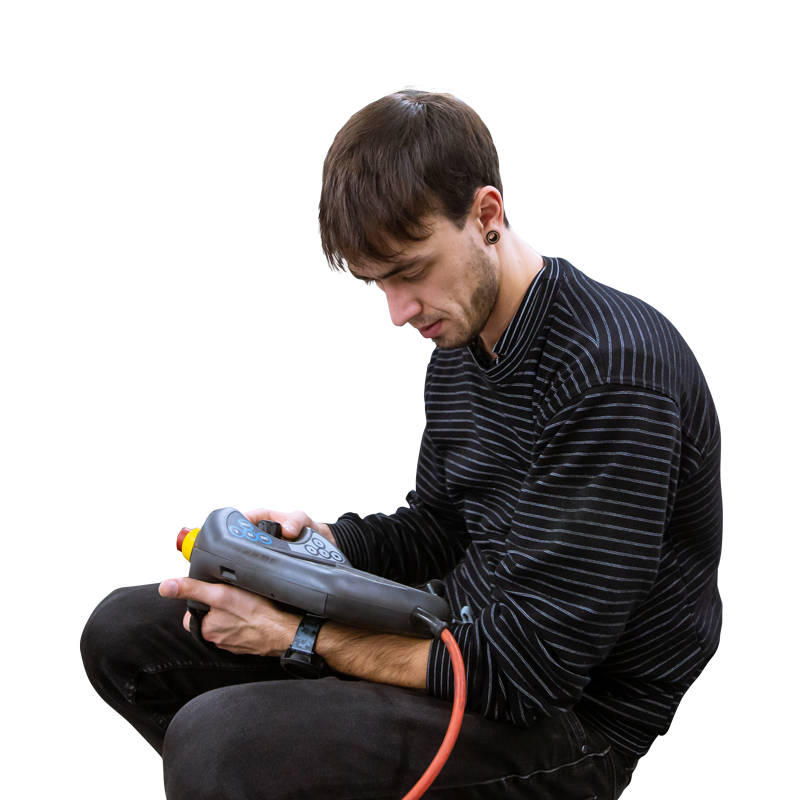 How can JOINER Services help you with your robot programming career?
Check out this video!
ROBOT PROGRAMMER SALARY
Automation is the key to increased production and profitability, and robot programmers will get paid a high salary.
A contract robot technician with controls engineering, electrical engineering, or joining engineering knowledge could reach over $100,000 in annual earnings.
As a contract robot programmer, rates can per project and are dependent on the worker's experience, technical skill required, and project location.
Robot programming careers offer an abundance of opportunities to boost one's salary in the automation industry.
Want to learn more about contract robot programming careers?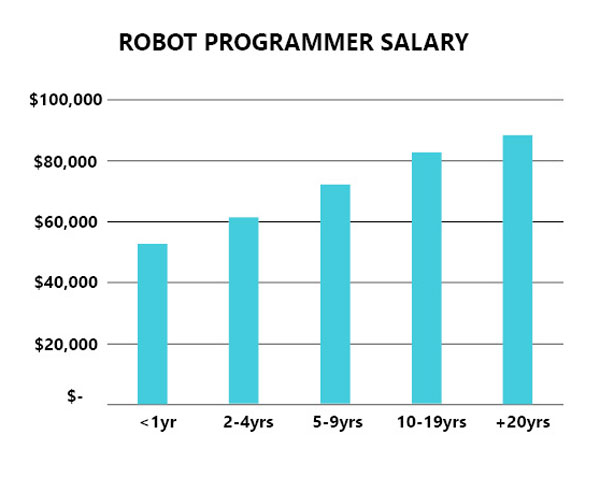 WHAT TO EXPECT AS A SELF-EMPLOYED ROBOT PROGRAMMER
ROBOTICS TECHNOLOGY
Programmers must also act as robotics software engineers because they need to understand the background logic of the robotic systems. Acting as a software engineer, the programmer has a good comprehension of performing memory backups, uploading data to the controller, and communicating inputs and outputs with programable logic control engineers.
ROBOT EQUIPMENT
It is the job of the robot programmer to develop a robot maintenance schedule to ensure their longevity. If an industrial robot does not have a regularly scheduled maintenance plan, parts will become worn out and need replacement. The programmers are responsible for understanding how to fix or replace the damaged robot equipment.
ROBOT APPLICATIONS
Contract robot programmers are likely to see multiple types of robotic applications listed above. Understanding each robotic application is critical for a contract robot programmer because programming for a welding operation is much different from a palletizing application. 
ROBOT PROGRAMMING
Programming robots is a fun profession similar to playing video games. These engineers develop paths, and tasks for the robot programs, while trying to reach the client's targeted cycle time.
SPECIFICATIONS AND QUALITY REQUIREMENTS
In any robotic automation process, contract robot programmers must make sure all specifications and requirements set by the client are met. This includes robot safety and keeping all workers safe when in a robot cell.