welcome to joiner CAREERS
Design Engineering Jobs
View our design engineering jobs that are available on a project-by-project basis. As a design engineer, you will use your expertise to develop new designs, troubleshoot mechanical issues, and ensure that projects are completed on time and to customer design specifications.
As a contract design engineer, you will have the chance to work on various industrial design projects, offering new challenges and design opportunities for growth. When self-employed, contract design engineering roles can provide work flexibility and design freedom, which may not be available in more traditional design engineering jobs.
Contract Design Engineering Jobs
We help self-employed contract design engineers promote themselves on our platform. These engineers have many product design opportunities because many different sectors heavily rely upon computer modeling skills to produce a new product. Choosing a career path as a contract design engineer will allow a person to gain a lot of work experience in the design industry.
Design Engineer Educational Requirements:
Create a network using the JOINER Services platform and expand your career as a self-employed design engineer.
4-YEAR BACHELOR'S DEGREE
CAD or Product Design Engineering
Mechanical Engineering
Manufacturing Engineering
Mechanical Design Engineering
Computer Engineering
Software Engineer
2-YEAR ASSOCIATE DEGREE
CAD or Product Design Engineering
Mechanical Engineering
Manufacturing Engineering
Mechanical Design Engineer
Computer Engineering
Software Engineer
PROFESSIONAL CERTIFICATION
Society of Automotive Engineers
OR +2 YEARS OF INDUSTRY EXPERIENCE
Design Engineering Technician
Find a design engineering job!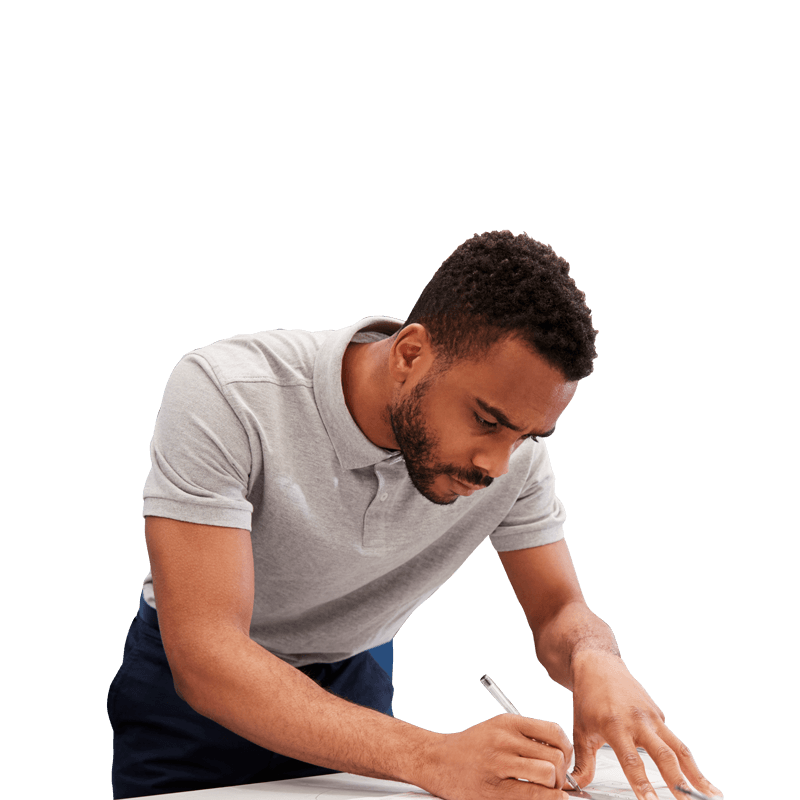 Bringing the client's design engineering projects to life
Our design engineers must have some CAD experience with at least one of the following modeling software:
Autodesk AutoCAD
Inventor
Fusion 360o
Autodesk Alias
Catia
SolidWorks
ICEM Surf
Creo
NX
Design engineers may have to consider their options on the platform depending on the CAD modeling software a customer uses. The modeling software will determine what projects may be available for that designer if they are unwilling to learn new modeling software.
Design Engineering Career Path:
DESIGN UNDERSTANDING
To properly carry out their project responsibilities, design engineers must understand electrical engineering, mechanical engineering, material science, and computer science. In addition, they must understand the manufacturing process to create a new product. Contract engineering designers will deeply understand how to develop new products because of their ability to lean on past experiences to design these products.
DESIGN COMMUNICATION
Excellent communication skills with the client's employees will help the designer understand the needs of the contract project. For example, when working in product development, one will learn that being able to communicate thoughts and ideas into a mechanical design model plays a crucial role in their design engineering career. Talking with multiple team members or the design engineers will help the product designer identify key problem areas to avoid during the manufacturing process. 
NEW DESIGN CONCEPTS
The job of a design engineer is to bring their client concepts to life. All new product development must be carefully designed to client specifications to fit correctly with any mating parts or pieces. Sometimes contract design engineers are great at design creativity because of their past job experience, which makes them a great asset in new design development.
CRITICAL THINKING
Clients often request new or different ideas for a design project, and it is their job to create something similar to the request. Design engineering careers are not always simple modeling configurations; often, this requires them to think "outside the box" to develop new drawings for their clients. Critical thinking is an undervalued technical skill that most contractors learn to make wise and calculated design decisions when on a project. 
DESIGN VERSATILITY
Designer engineers must learn to adapt to new engineering technology modeling software a client might use and new products or industrial engineering systems. Engineering designers must be agile and often lean on prior experience within the industry to help them meet new design challenges. Contracting as a design engineer is a great way to build one's career development because of all the different software that one must learn so often.
DESIGN CREATION
A career in design engineering means creating modeling designs, specifications, prints, and designing manufacturing plans. This career path allows someone's creativity to shine as their new product comes to fruition. Contract design engineer jobs allow for these creators to be on the cutting edge of design technology and will enable them to build some iconic products.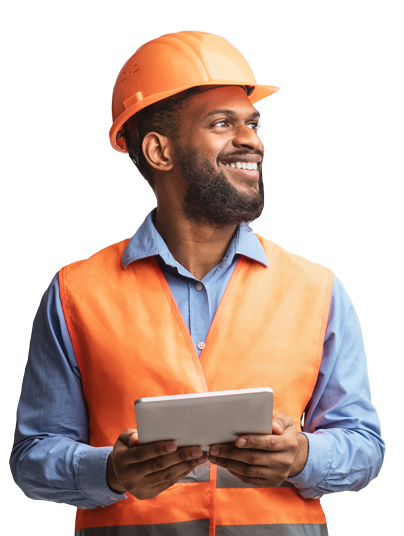 Learn about design engineering jobs.
Watch this video!
OUR DESIGN ENGINEER RATES
As different industries continue to expand and develop new technologies, the need for design engineers will continue to grow with them.
A highly educated or senior manager with a design background can earn well above national salary averages, depending on their career path.
As a contractor, hourly rates vary per project and depend on experience, required design skills, and location.
The average design engineer makes around $77,000 per year.
Find contract design engineering jobs interesting, want to learn more?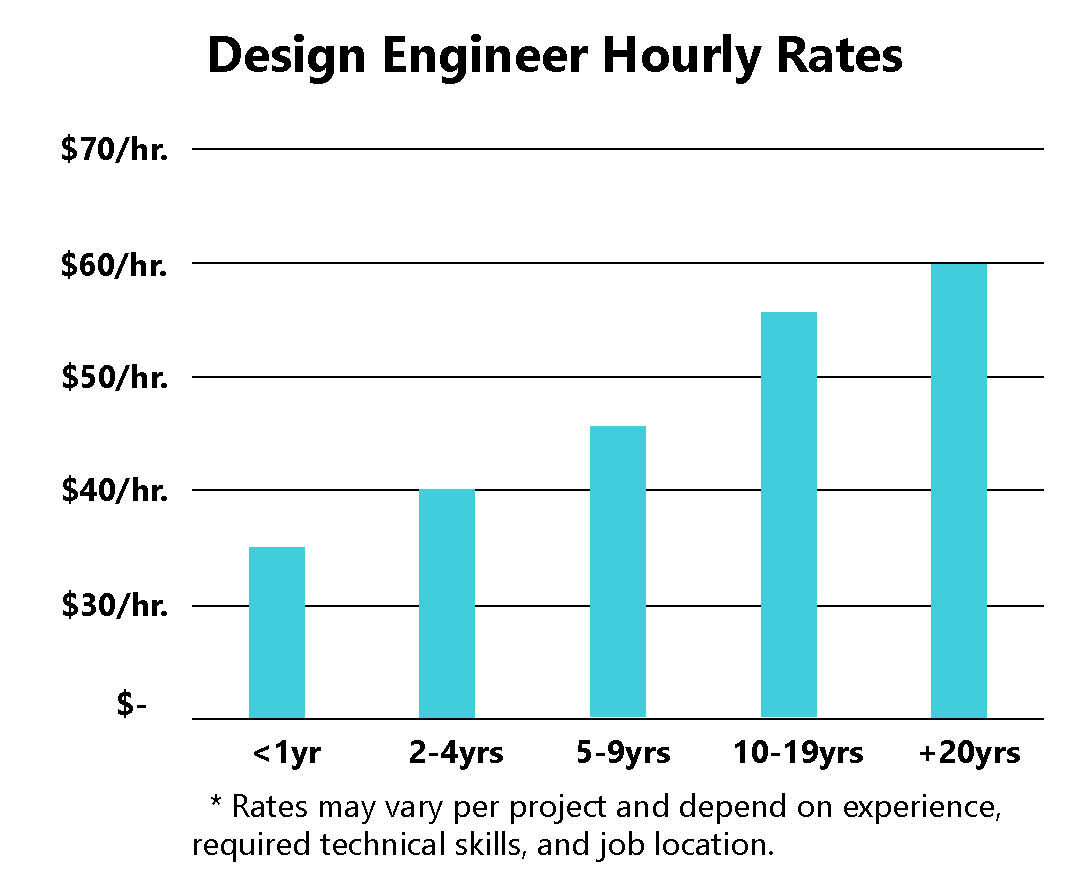 Expectations As A Design Engineer:
CAD MODELING SOFTWARE
Designers expect to learn many different types of computer engineering software, as each client may use something other than what the engineer is familiar with. In addition, as a contractor, one will develop a knowledge base of multiple computer-aided design software programs, as each client will most likely be using different software modeling programs.
Using multiple modeling software types gives a contractor a great advantage when they do decide to stop working in the engineering service industry because they will have more opportunities to work for different employers and will not need the in-depth training required for the new onboarding process.
DESIGN PROJECT OPPORTUNITIES
Design engineering careers provide many opportunities because many industrial manufacturing sectors rely upon them, including the automobile industry, agriculture, aerospace, electronics, military, healthcare, and construction. In addition, design engineering careers often lead to new engineering opportunities, such as mechanical engineering or manufacturing engineering.
As a contract design engineer, expect to be involved in the initial concept, design review, and development phase plus learn how to manage a design project. They also have opportunities to get multiple design patents through different client projects.
NEW DESIGN SYSTEMS AND DESIGN PRODUCTS
Every new product development project is different, so that contact design engineers will learn about multiple types of systems and products. Engineering design plays an essential role in any product development, as it is the first piece of the creation and must be manufactured correctly. Designers are on the cutting edge of technology and play a key role in innovations within an industry.
DESIGN EXPERIENCE
Most self-employed design engineers will constantly be learning about new products. They can quickly grow their knowledge base in the industry because of the different products they see in such a short amount of time. Engineering design is a unique skill set that can launch a person's career path because of the work experience one will gain contracting. Often contracting early in a career can help build a great foundation of work experience for a young engineer to become a fast-tracked qualified applicant for a product manager or an engineering manager role.