What does a contract controls engineer do?
Contract controls engineers play a crucial role in designing and developing automated manufacturing control systems. These engineers are responsible for the software and program logic controls (PLC) for any automated process, which makes contract controls engineering jobs in high demand. In addition, these engineers oversee all types of automation equipment and systems at their clients' facilities.
This position requires researching, testing, and analyzing ideas for process and control system improvements. This engineering position will require them to meet safety and quality standards while driving revenue growth through improved production processes. They are also responsible for improving production efficiency by evaluating system performance by proposing and implementing automation improvements.
What is the job description of a contract controls engineer?
Troubleshoot control systems with processes, hardware, or software.
Document and record controlled logic programs for production control of the manufacturing process.
Collaborate with other engineers to identify problems and develop solutions for continuous improvement.
Provide technical training to client technicians and additional information about the PLC.
Successfully implement process sequencing of systems per customer standards or specifications.
Fix equipment that has faulted and repair damaged components.
Implement the client's project requirements for their automation equipment
In many industries, these engineers ensure that the highest quality products are produced. They make sure that the equipment is running correctly. They work with other departments to create, implement, and maintain processes that increase efficiency and productivity.
They also assist in implementing predictive maintenance plans, reviewing plant processes, and recommending improvements. The main job description of a contract controls engineer is to ensure that all safety and quality standards are met.
An experienced controls engineer may get a more significant job title, like project controls engineer, or senior controls engineer, even as a contractor. They will be experienced with robotics, automation, and multiple controller brands.
How to find contract controls engineers?
It can be challenging to look for a contract controls engineer. Often companies try to connect with a contract house with many contractors on the payroll. Many companies find issues with that because a company will have a bias towards their workers.
Now engineering service platforms like JOINER Services have a simple way of finding qualified contract engineers. A company must find the right person for the project without the company's favoritism getting involved.
Contract control engineers should have some experience with one or more of these skill-structured controls:
Next Gen 2

Ethernet using Rockwell Automation with a FactoryTalk HMI

KUKA Pulse

DeviceNet using Rockwell Automation with a FactoryTalk HMI

GCC2

DeviceNet or ethernet using Rockwell Automation with a TIA Portal HMI

Rockwell

Ethernet using a FactoryTalk HMI
They will most likely have some expertise in other types of connections:
Interbus
Profinet
Profibus
DeviceNet
Ethernet
When trying to find a controls engineer for any project, learning more about a person than what is shown on their resume is essential. So first, find references or referrals from previous employers. If one cannot, look at engineering service platforms like JOINER Services for assistance. They offer unbiased ratings and reviews of the contractors on their platform to help businesses find the perfect contractor for their projects.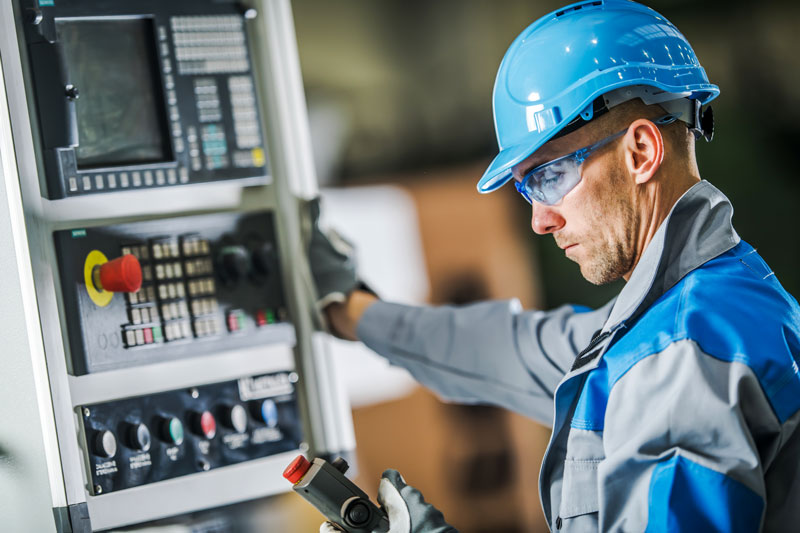 How to become a contract controls engineer?
The first thing to consider if someone wants to become a controls engineer is which education level to peruse. When researching colleges to become an engineer in controls, it is crucial to choose the right major. Control engineers often have a bachelor's degree or associate degree as an electrical engineer, automation engineer, systems engineer, software engineer, or computer science.
However, some engineers continue their education and receive a master's degree in automation or systems. Most controls engineers have a college education, but it is possible to start a career in the industry, without a degree, depending on the job type.
One may find that experience in other automation jobs can help someone become a control engineering professional. Many controls engineering jobs require experience from other related jobs, such as an electrician, systems engineer, or robot programmer. Many controls engineers have also worked as field service technicians or mechanical technicians in the past.
It is also possible to get a certification in controls from a PLC training facility. The International Society of Automation offers multiple certification programs that can help a person get their career started in controls without attaining a college degree. The programs are intended to build a student's knowledge and technical skills in automation, control systems, safety systems, and automation project management.
Working as a contractor directly after getting a degree or certification is one of the best ways to gain experience within the industrial automation industry. These talented young workers will be able to travel to numerous new customer facilities and experience an exponential growth of knowledge providing their engineering services. As a contractor, they will also gain experiences outside the normal controls engineer job summary because every new client will bring new encounters not seen on other projects.
Choosing to do contract work after working in the industrial automation industry is also very common. Workers often get tired of the repetitive work day in and day out from their current employer. Contract work is exciting because every customer brings new and different challenges to a project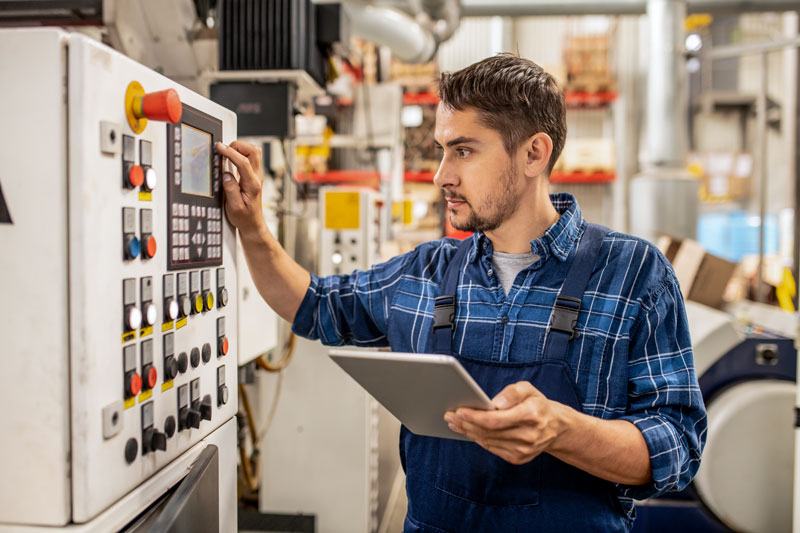 Top skills of a contract controls engineer.
The contractors in this engineering service industry will become experts in their respective fields. In addition, working with some of the latest technologies will help implement processes for each client in the industrial automation industry.
The skills learned while working as a contract controls engineer will build a solid career:
Verify that all safety measures are in place, with emergency and operator stops functioning correctly.
Confirm all safety screens and sensors are operating precisely.
Document and control all records of the automation process.
Reset all controller or system faults.
Validate that the programmable logic controller is written to customer specifications.
Debug and troubleshoot any control issues.
Excellent attention to detail with mechanical components.
Train customer maintenance and technical staff.
Troubleshoot production equipment.
Create new software logic if requested by the customer.
Increase the overall output of the product.
Assist with start-up, installation, and production support that is required.
Contract controls engineer career path.
As a career progresses, taking on more responsibilities and assuming leadership roles is common. For example, with experience, a contract controls engineer can become a senior controls engineer and progress to the team lead or manager title, depending on the project.
Contractors who gain experience at a young age have an opportunity to build a solid foundation. Then, as they progress through their career, they will have opportunities to pick and choose some of the best jobs the industry offers because of the vast knowledge they have gained from contracting.
Other contractors jump in and out of the industry while increasing their wages or gaining experience in a different engineering service sector. Being a contract engineer often allows for a better work-life balance as they can take extended time between projects.
If an individual is looking for a change and does not want to work for a traditional contract house and instead wants to become self-employed. Now there is an engineering service platform called JOINER Services to help increase an individual's visibility within the industrial automation industry.
Contract controls engineer salary
According to JOINER Services contracting data, the controls engineers' average wage is $124,000 annually. As a contractor, the average salary is around $60 per hour. Most contractors earn anywhere from $40 to $80 per hour, depending on skill and experience. Most contract work requires overtime, so many engineers make well into the six-figure range.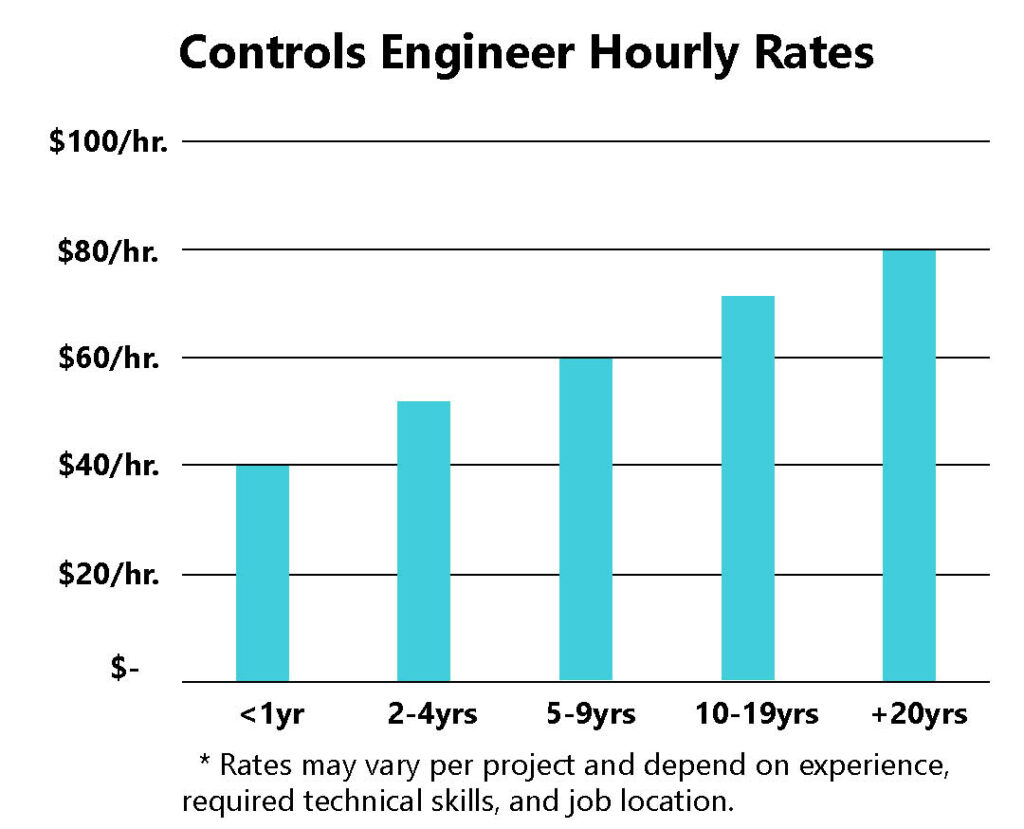 LEARN MORE ABOUT CONTRACT CONTROLS ENGINEERING:
Is contract controls engineering a good career choice?
The field of contract controls engineering can be a great career choice for engineers interested in automation and traveling. This field involves designing and implementing control systems for industrial processes and ensuring they meet the client's project requirements and guidelines.
Contract controls engineers work in various industries, including manufacturing, energy, automotive, and construction. They may work on projects ranging from commissioning automation systems to designing control cabinets and other large-scale industrial automation processes.
The most significant advantage of working as a contract controls engineer is the potential for high-paying jobs. Demand for skilled contract control engineers will likely grow as automated control systems become increasingly important in industrial processes.
It is essential for engineers to consider several factors before becoming contractors. Research the industrial automation industry, determine if working away from home is an option for you and your family, and determine if you are willing to work over 45 hours a week before deciding.
Should a controls engineer get PLC certified?
Getting certified as a PLC (Programmable Logic Controller) programmer can be an excellent way for a controls engineer to enhance their programming skills and PLC knowledge. PLCs are commonly used in industrial automated control systems, so having certified expertise in PLC programming can be a significant advantage in the job market.
PLC certification programs are typically offered by the OEM companies that manufacture PLCs or by training facilities. The PLC certification process usually involves completing a course or series of courses in PLC programming and passing a certification exam.
A controls engineer doesn't need a PLC certification, as most jobs do not require one. Many controls engineering jobs look at experience or knowledge of PLCs over certification.
Suppose you are interested in getting certified in PLC programming. In that case, research the requirements for positions that interest you and see if PLC certification is preferred or required. Furthering your education and knowledge is always beneficial regardless of job requirements, so whether or not to get certified in PLC programming depends on the individual's career goals, interests, and the potential job requirements you may be pursuing.
How to gain experience as a controls engineer?
There are several ways to gain experience as a controls engineer, including the following:
Mentorship: Finding a mentor in the field of controls engineering can be a great way to gain insights and guidance from someone with more experience. Mentors can advise on specific technical PLC skills, help troubleshoot automation problems, give career development advice, and spot industry trends.
Join Professional Organizations: Joining professional organizations such as the International Society of Automation (ISA) or the Institute of Electrical and Electronics Engineers (IEEE) can provide networking opportunities, access to training and development resources, and exposure to industry events and conferences.
Freelancing Or Contracting: Working as a freelance or consulting controls engineer can provide exposure to various control systems projects across multiple automation industries and opportunities to develop lots of experience and work on their client communication skills. Automaton consultants must be able to work independently and use their prior automation experience to help solve the client's new PLC or controller issues.
Can you work remotely as a contract controls engineer?
Contract controls engineering jobs with remote work options are more common, especially since the COVID-19 pandemic, which has led many companies to implement remote work arrangements for some automation work. While the availability of remote contract controls engineering jobs may vary by industry and company, many companies are now offering remote work options to attract and retain top-level and senior controls engineers.
Remote contract jobs typically involve control system design, testing, and maintaining automated control systems. This can be done using various communication tools such as video conferencing, file sharing, and project management software.
One advantage of working remotely as a contract controls engineer is that it allows clients to use the best professional for the job no matter where they live. Additionally, remote contract work can often lead to the client's cost savings, eliminating the need for physical office space, insurance coverage, benefits, or retirement.
Remote work does present some challenges, like the need for solid communication and collaboration skills, the potential for in-home distractions, and contractor isolation. Therefore, it is crucial for contract control engineers considering a remote work arrangement to carefully evaluate the pros and cons and ensure they possess the necessary skills and self-discipline to succeed in a remote work environment.
Remote contract controls engineering can provide an excellent opportunity for PLC programmers to work in a highly technical and rewarding field while enjoying the benefits of working from home, regardless of location.
MORE ENGINEERING CONTENT:
More Resources for Engineering Contractor Jobs:
Take a Look at the Engineering Contractor Careers that JOINER Services Can Help You With:
Data Resources: