welcome to joiner services
JOINER News
Build Your Career with Countless Design Engineering Jobs in Michigan
If you enjoy using your creativity and are good at problem-solving, you could be on your way to getting one of the design engineering jobs in Michigan. Being involved with the development of products means you are constantly experimenting with new concepts that meet quality requirements set by your customers or the business you work for.
Did you know?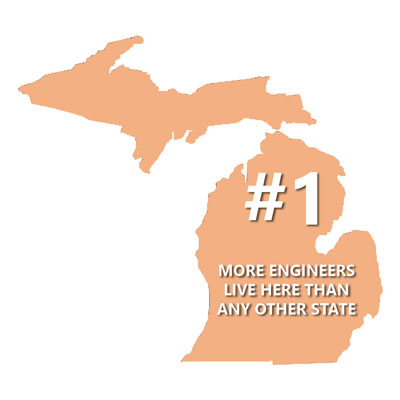 If you want to work in automotive as a design engineer, Michigan will have the engineering jobs.
Michigan is the state with largest number of car manufacturing facilities in the country, and these auto manufacturers hire mechanical and design engineers to work on their design teams. Finding a job opening at a major OEM or tier supplier is fairly easy in Michigan. Often times companies use temporary contract design engineers to help with meeting target deadlines and creating various designs in a short amount of time.
Michigan has more to offer than jobs within the automotive industry.
Even though Michigan is highly dependent on its automotive industry, the state does offer plenty of additional type of engineering work. Design engineer jobs in Michigan also include working in the following fields:
Architecture – Residential or Commercial
Contract Mechanical Engineer
Recreational or Landscape
Roadways
Buildings
Interior Design
Construction Projects – Residential or Commercial
Electrical Design
Aerospace
Contract Design Engineer
Learn about educational requirements as a design engineer:
The best way to become one of the many design engineers in Michigan is to pursue a mechanical engineering degree or one of the many types of design engineering degrees. Students can also look into colleges that offer a 2-year degree that focuses solely upon specific areas within design or mechanical engineering.
While studying any type of computer aided drafting (CAD) you will use computer modeling that will be used to construct or manufacture a product, learn about materials, and read blueprints or specifications to create your designs.
If you are interested in becoming a design engineer in Michigan, why not check out these colleges and university to get your degree in CAD design or product design engineering? Many technical colleges and universities in the state offer great degrees in these fields.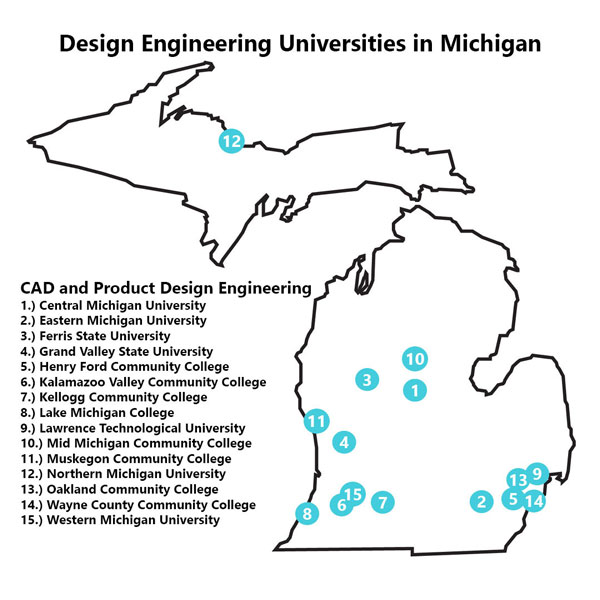 What other types of degrees can result in becoming a design engineer?
You may find that a degree as a product design engineer doesn't suit your education or career goals. Other educational options could be to pursue a career as a design engineer if you graduate with a degree with one of these other great collegiate choices in Michigan:
Mechanical Engineering
Design Engineering Technology
Software Engineer
CAD Drafting Technology
Civil Engineering Drafting
Computer Engineering
Find out about design engineer salaries:
Jobs in the field are plentiful in Michigan, which is why many people choose to live and work in the state. There are countless job opportunities in the metro-Detroit area. Detroit is the home of the American automobile industry, which means it has plenty of design engineer and mechanical engineer jobs. Those who have a four-year degree with a major in engineering can expect to find great, high-paying jobs throughout the state. Contract engineers have opportunities to earn more than average salary employees as they usually work overtime and perform weekend work, boosting their wages well into the six-figure mark.
Michigan's average base salary for a design engineer is around $66,000. However senior level or contract design engineers can earn a salary well above $100,000.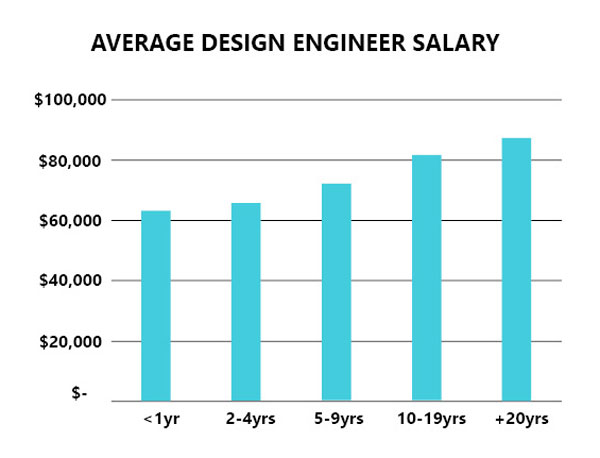 What type of design engineering interests you?
As a mechanical engineer or computer aided drafting (CAD) design engineer in Michigan, you will most likely be involved with the design of:
Blueprints – The two-dimensional drawing of technical or engineered prints.
Manufactured Parts or Components – The design of a single part.
Equipment or Systems – The design of multiple components that combined makes one main product.
Layouts or Automation Cells – The drawing of building prints where equipment will be placed.
Testing Equipment – The validation of new equipment.
Fixturing – The design of products that hold parts in locations.
Simulation or FEA Analysis – Before creating initial prints, simulation models are created to provide initial feedback of a design.
CAD software programs most companies use:
Any type of design work will require some form of CAD software experience, knowledge or training using a particular CAD program. Once you master one CAD software you will be able to learn multiple types of software much more quickly. Most companies will use the following 2D or 3D CAD modeling programs:
NX
Inventor
Catia
SolidWorks
Autodesk AutoCAD
Creo
Fusion 360°
You can find design engineering jobs almost anywhere in Michigan.
As you have read, you've learned there are a variety of design engineer jobs in Michigan located around the state. Those living in and around Detroit or the metropolitan area have many options available to them, particularly since there are numerous automotive manufacturers located in the area. However, just like schools, Michigan has many industries located around the state, depending on the job you may be able to live almost anywhere in Michigan.
Interested in design engineering jobs in Michigan? Check out some of these great companies you could work for to take your career to the next level.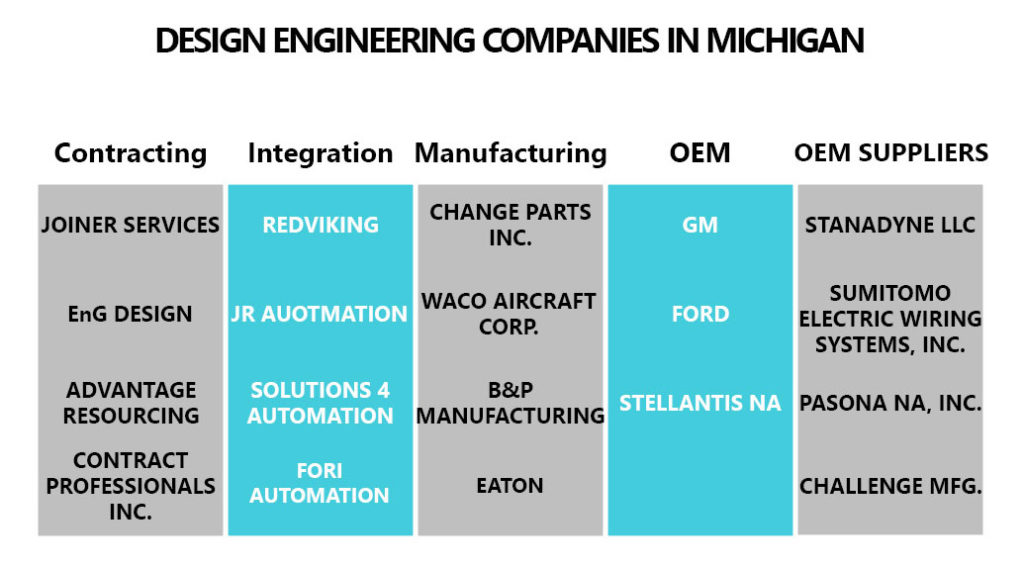 Why not work from home?
As many jobs transition to "working from home," design engineers have a unique opportunity to be one of the few careers where 100% remote work is possible. Often times design engineers only need a computer and the correct software in order to carry out their job. Design work can often be done from the comfort of your own home, which also allows these engineers to live anywhere they have internet access and a computer.
Find another path as a contract design engineer and build on your knowledge and experience.
While there is an abundance of engineering work in Michigan, there are also numerous other design engineering jobs available around the state and country.  If living in Michigan interests you but you'd like to work in other states, then maybe working as a contract design engineer is the career path for you!
Working as a contract engineer can be extremely profitable.
Working as a contractor is also very common in the state of Michigan, as it is one of the highest paying jobs in the industry. Many contract design engineers find themselves working for one of the various contract houses in Michigan; however other options like JOINER Services are available for self-employed engineers to promote themselves on its platform. 
Data Resources: