welcome to joiner services
JOINER News
Welding Jobs in Michigan, a State Booming with Opportunities for Weld Engineers
Suppose you are looking for a challenging career where you get to manufacture automobiles, create aerospace products, build military equipment and other heavy equipment machinery that is used in construction and agriculture. If that sounds interesting, then the welding industry in Michigan is perfect for you. This is where there is an abundance of welding jobs in Michigan across multiple industrial sectors.
Did you know?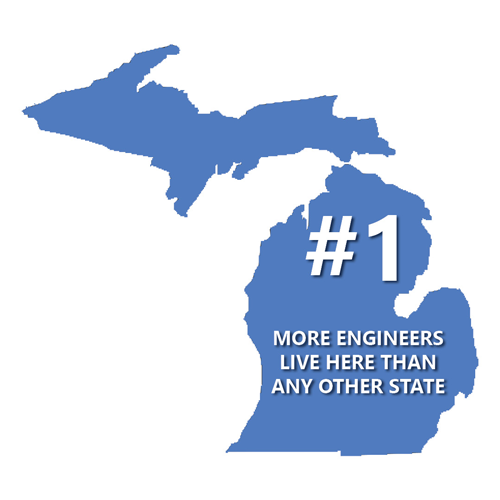 These different manufacturing sectors often have weld engineers using a variety of welding processes such as:
Gas Tungsten Arc Welding (GTAW or TIG)
Resistance Spot Welding (RSW)
Plasma Arc Welding (PAW)
Shielded Metal Arc Welding (SMAW)
Projection Welding (PW)
Capacitor Discharge Welding (CD)
Drawn Arc Stud Welding (DAW)
Gas Metal Arc Welding (GMAW or MIG)
Laser Beam Welding (LBW)
Submerged Arc Welding (SAW)
Flux Cored Arc Welding (FCAW)
Friction Stir Welding (FSW)
Ultrasonic Welding (USW)
Induction Welding (IW)
Electron Beam Welding (EBW)
Electroslag Welding (ESW)
Thermite Welding (TW)
Many weld engineers are also tasked with becoming joining engineers and learning mechanical joining processes like:
Self-Piercing Riveting (SPR)
Clinching
Flow Drill Screwing (FDS)
Adhesive Bonding (Gluing or Sealing)
Press Fitting
Learn about welding job education requirements:
Many of these jobs do require some background education or trade school certificates prior to applying. With over 25 schools in Michigan offering a two-year associate welding technology program, Ferris State University is the only school that offers a full four-year bachelor's degree in welding engineering technology. A bachelor's degree may be required for a weld engineer position.
Are you interested in pursuing an education in welding technology? Take a look at some of our favorite welding engineering technology colleges and universities located all over the state of Michigan.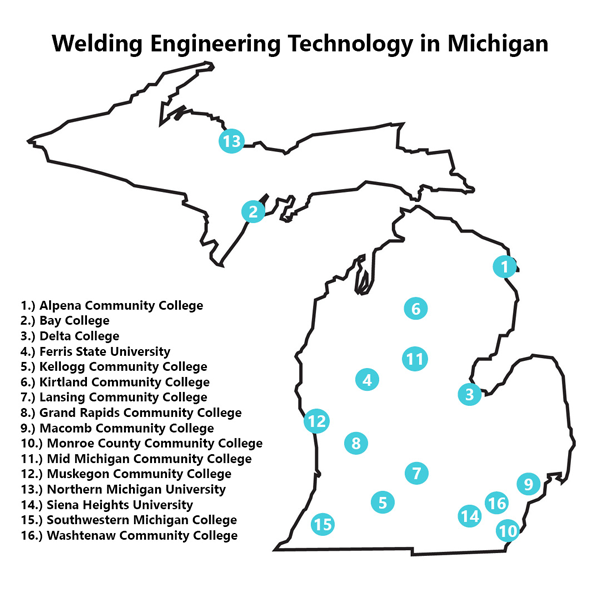 You can find more welding jobs in Michigan with a professional certification.
If you are looking for a higher salary and more job security, then receiving a welding certification is a great way to boost your career. If you want to advance your career with a welding certification from the American Welding Society (AWS), then check out its website here for the list of professional certifications the AWS offers. If you earn your welding certification from the American Welding Society, this will show your employer that you want to continue to learn about welding and that you have the drive to succeed – both are great qualities for leadership roles within your company.
If you are looking for welding jobs in Michigan, most likely you can find work in the automotive industry.
In recent years there has been tremendous weld engineering growth in the automotive industry due to the high demand for welded and joined products, coming from the push to light weight vehicles in order to meet gas mileage and CO2 efficiency requirements. In addition to working for the Big Three (General Motors, Ford Motor Company and Stellantis North America) which all have their headquarters in the Detroit metropolitan area, an individual could also work for one of hundreds of their automotive manufacturing suppliers in the Detroit area. Generally, the automotive suppliers will pay weld engineers a larger base salary, but they may have to work overtime and weekends, while those weld engineers who work for the Big Three usually have a lower salary but more vacation and holiday time.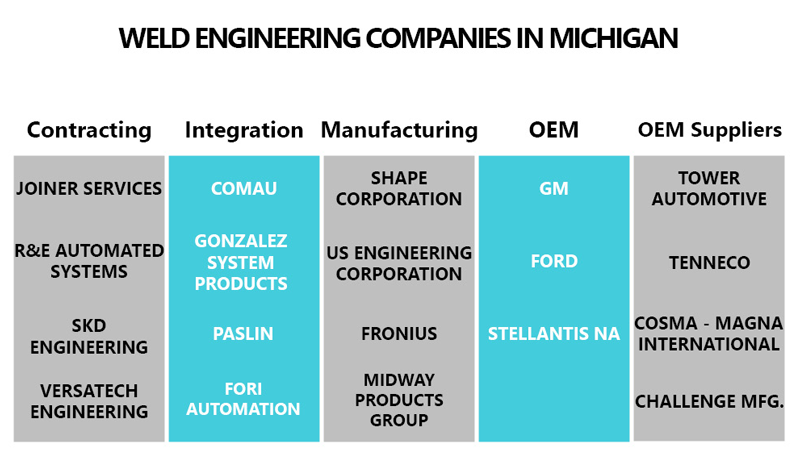 We bet you didn't know about the military defense vehicle companies located in Michigan.
To the surprise of many, Michigan is actually a major contributor of military defense vehicles. Companies like TECOM Industries, BAE Systems and Industries, General Dynamics Land System all are located in the metro Detroit area and produce military vehicles. The products vary from light armored vehicles like Humvees to heavily armored fighting vehicles like the Abrams tank. All use weld engineers in many phases of their business – from initial weld specification, design of joints, manufacturing of parts, qualification and inspection, to even repair procedures. Weld engineers are an absolute requirement in the defense sector.
We have even more welding jobs open in Michigan, even where you might not imagine!
You can also find other careers in manufacturing fields as a weld engineer in Michigan. There are many openings in the energy, medical fields where often they will use the MIG and TIG welding processes. The construction sector often uses stud welding and SMAW processes. Those who are involved in aerospace and space exploration can find welding jobs in other parts of the country but most companies have suppliers located in Michigan who make smaller component parts.
Want to travel the country but call Michigan your home? Maybe contract engineering work is for you!
Michigan also has a large weld engineering contracting segment in the industrial manufacturing industry. Automotive manufacturers do not build their own assembly lines and will use contractors to help with the installation and integration of new or existing assembly lines. Many of these weld engineers are based in Michigan but have opportunities to travel the country and even the world performing weld engineering support for customers. Often times these contractors will work directly for one of the many contract houses in metro Detroit or go independent and showcase their own talents at places like JOINER Services.
What are the four things you should do when looking for welding jobs in Michigan?
It is important to make sure your credentials meet the requirements listed before applying.
Many employers will share a job description or work requirements during the application process so make certain you read and review before sending in your resume.
Many of the larger employers will conduct an initial phone interview prior to a face-to-face interview to find out whether or not you will be a great candidate for the job.
Other considerations include the benefits offered and salary.
What salary should you expect as you build your weld engineering career?
Depending on your experience and knowledge in the industry weld engineers can eclipse the $100,000 mark early in their career. The chart below shows the national average weld engineer salary.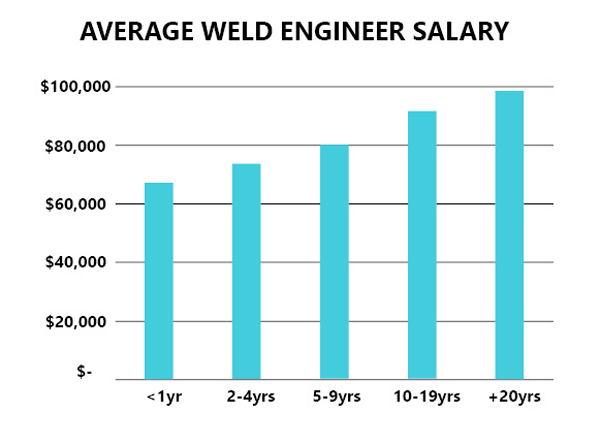 What salary should you expect working as a weld engineer in Michigan?
Michigan weld engineers have an average salary of $67,885, but many weld engineers earn well into the six figures. The weld engineers who earn above $100,000 often gain experience with robotic, controls, mechanical, materials, joining or electrical engineering as they advance their careers.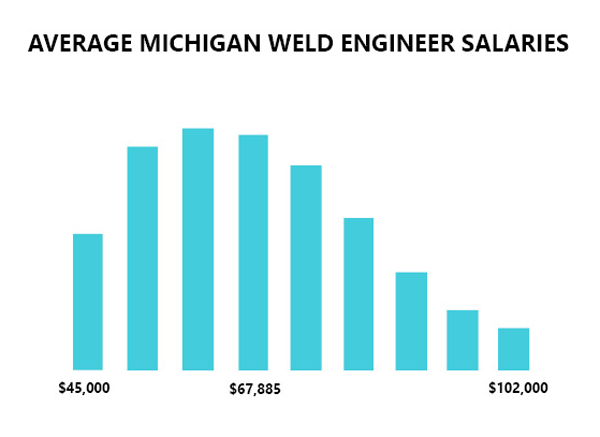 Michigan is booming with opportunities for weld engineers.
The best thing about working in the welding field is that you can work anywhere in the world. But – one of the best areas for weld engineers is in Michigan. If you want to have the most successful opportunity as a weld engineer, that starts with a bachelor's degree in welding engineering technology. You will have no problems finding welding engineering jobs in Michigan or wherever you desire. If you consider becoming self-employed, to take advantage of the tax credits, larger retirement savings opportunities, and the higher hourly rates, consider using the JOINER Services platform to showcase your professional talents. You can register for free online and get connected working on contract for multiple companies within Michigan.
Data Resources: