What does a contract electrical engineer do?
Contract electrical engineering jobs can involve clients installing electrical equipment, power supplies, control systems, or electrical systems. A contract electrical engineer can help design and develop different electrical schematics, drawings, or prints. An electrical engineer will travel to their client's location to help troubleshoot or debug their equipment. Depending on their work experience, they may be asked to help with electrical training or safety.
How to find contract electrical engineers?
Many contract electricians need specific preferred qualifications to fulfill their electrical engineering duties. A client may be able to identify some critical electrical skills needed for a job type by looking through an individual's resume to find relevant experience.
Customer requirements may be different, but an electrical engineer contract job description may include the following:
Math or science requirements.
Electrical design of components, parts, or electrical systems.
Understanding of power requirements for building services.
Project management skills.
Specialized electrical engineering categories.
Similar work experience on electrical projects.
Leadership or management roles.
Communicates well with multiple engineering teams.
Can perform electrical maintenance duties.
Sometimes the client needs more information than a resume to identify the perfect contract electrical engineer for their project. They must see prior references and a rating system to help them decide. With engineering service platforms like JOINER Services, they have an unbiased resource pool for finding quality electrical engineering talent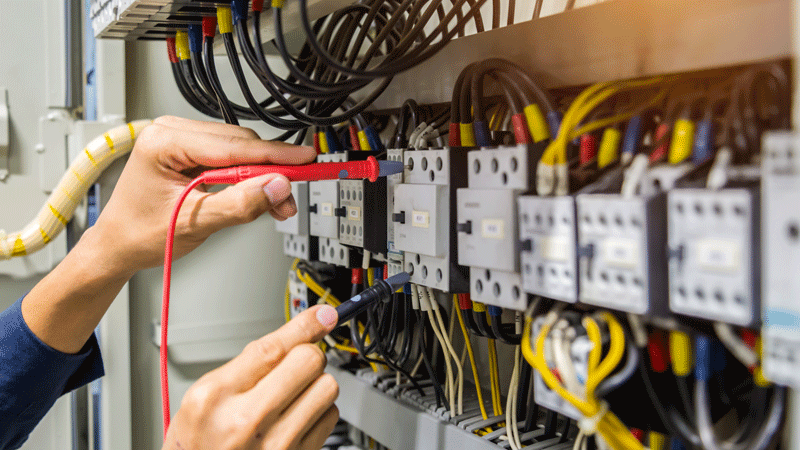 How to become an electrical contract engineer?
Education is the first thing to consider if someone wants to become an electrical engineering contractor. According to Zippia.com, 72.9% of contract electricians have a bachelor's degree. In addition, 12.8% of contract electricians have master's degrees. [1]
Although most contract electrical engineers have a college degree, becoming a contract electrician with a high school diploma or GED is possible as a junior electrical engineer. One main factor in getting a job as a contract electrical engineer is that candidates have years of prior electrical work experience.
When researching how to become an electrical contractor engineer, the best career advice would be to choose the right electrical major. As noted above, contract electrical engineers often have a bachelor's or master's degree in some electrical engineering field. Getting an electrical engineering degree from a university in Michigan can be very beneficial to start a career, as the median starting salary from many schools is reported to be higher than the national average.
After they gain more work experience within an industry and overtime working as a field engineer, an individual could quickly become an electrical contractor. Many contract electrical engineer jobs require prior experience as an electrical engineer in a specific role within a company. An experienced electrical engineer will have had prior roles in the electrical industry, where they have been a lead, senior electrical engineer, or project management role over electrical projects or electrical engineers.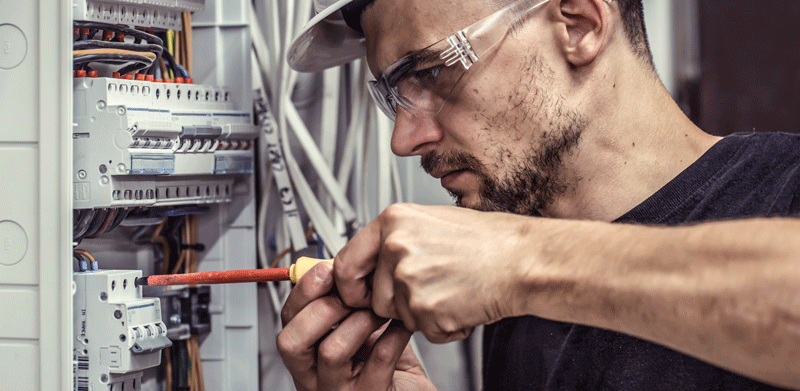 Top skills of a contract electrical engineer.
A contract electrical engineer's resume will grow quickly with the work experience they gain working on many different projects for many clients. Contract electrical engineer jobs will be challenging, but once a person stops contracting, they can easily find employment because of the amount of electrical knowledge they have gained.
These skills gained while contracting will help them boost a career in electrical engineering:
Building electrically safe equipment and electrical components.
Learning to troubleshoot or debug electrical equipment and electronics.
Establishing electrical communications between automated products and devices.
Reading electrical drafting prints, schematics, and drawings.
Building systems, controls, or components.
Working with high and low amperages or voltages.
Creating new design concepts or developing new products.
Constructing cabinets, panels, or electrical housings.
The design of all products that involve electricity.
Understanding a client's electrical specifications.
Learning how each electrical element on a client's product functions.
Contract electrical engineer jobs.
Many also choose to work on the contract because of the constant "change of scenery," as many engineers are bored with their current job. The fast pace of contract work can be exhilarating, and bring unique challenges, as each customer will have different issues to resolve.
Electrical contracting projects are rarely similar because they will change client locations, develop business relationships with new people, and work on different electrical projects. Contract electrical engineer jobs can provide a unique opportunity for an individual to grow professionally and personally.
The most crucial part is finding what is best for that individual. Contract work is only for some. Those interested in learning more about contract electrical engineering can now search for engineering services platforms like JOINER Services, which offers opportunities for electrical engineering contractors to increase their customer base and win more business.
Contract Electrical Engineer Salary
Contract electrical engineers can do more than meets the eyes and get paid an excellent wage for their skillful and technical electrical work. According to JOINER Services data, a contract electrical engineer can earn $125,000 annually. For example, the average hourly rate for a contract electrical engineer is around $60.00. The top earners can make over $165,000 annually, and the bottom earners make around $80,000 annually.
The profession is also expected to grow annually by 3% from 2021 through 2031 and provide over 9,300 new job opportunities in the U.S., so finding electrical engineer jobs has never been easier. [2]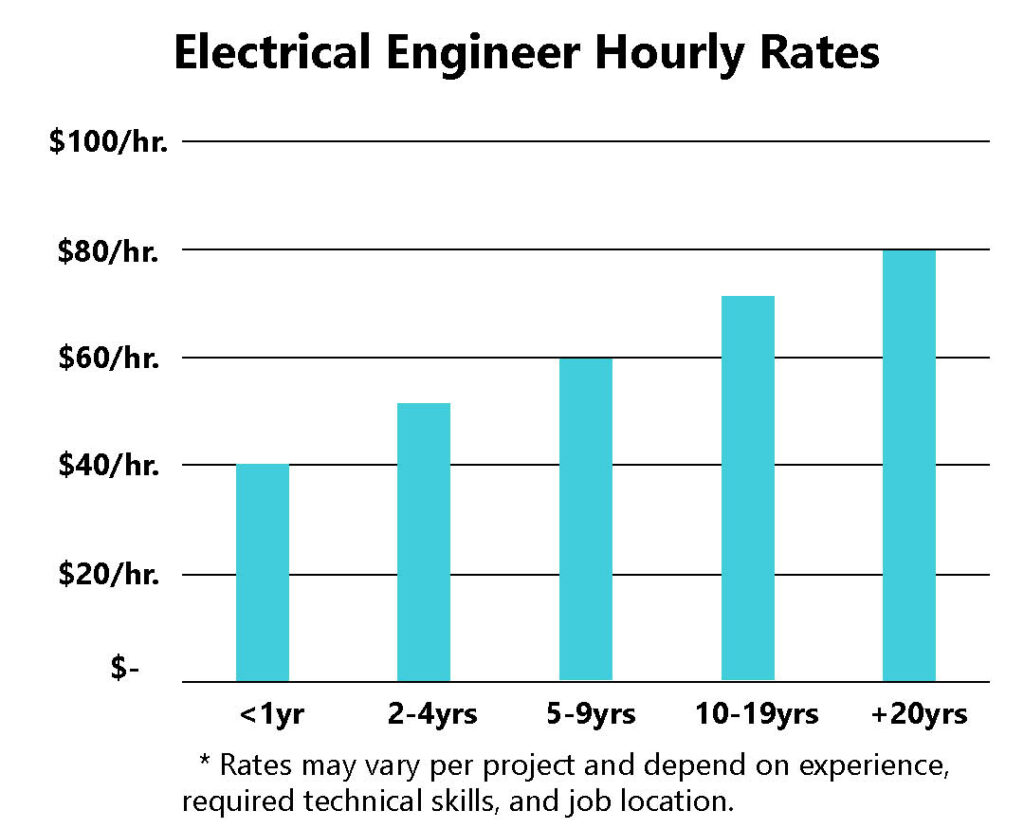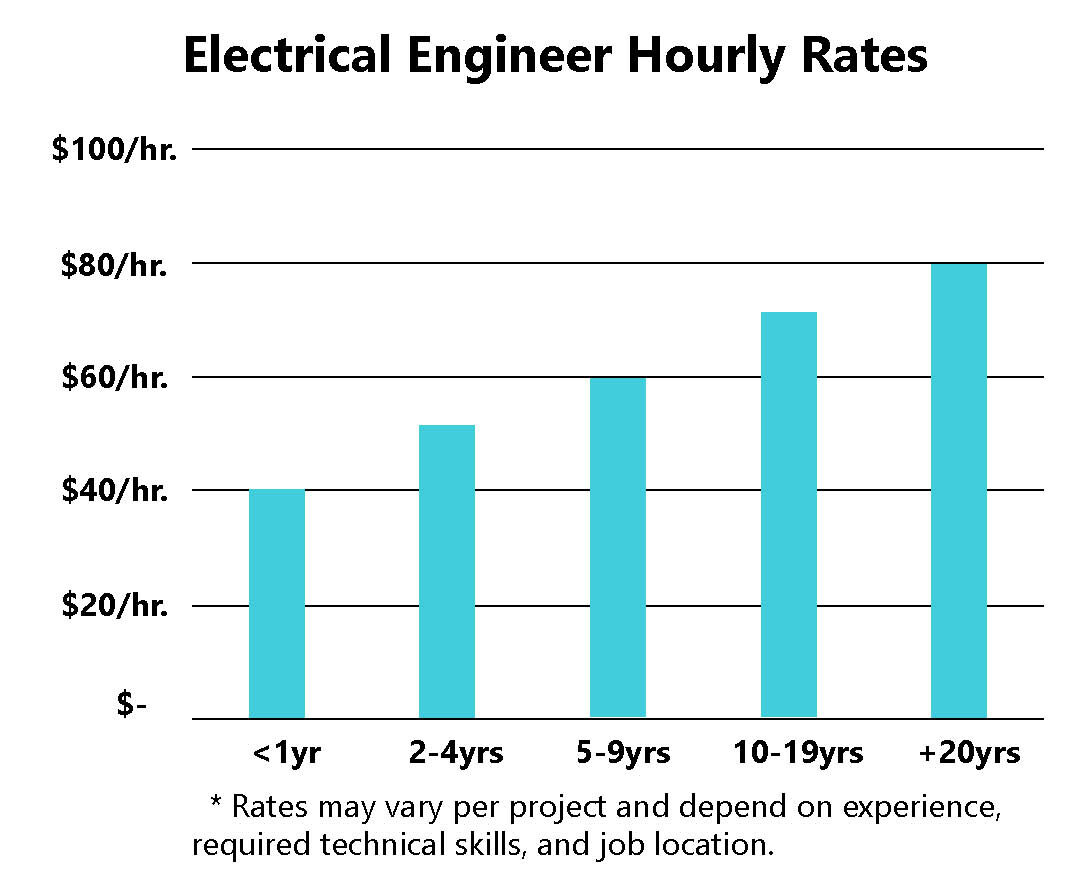 LEARN MORE ABOUT CONTRACT ELECTRICAL ENGINEERS:
Is contract electrical engineering a good career choice?
Contract electrical engineering is a highly specialized and in-demand field that can offer various career opportunities within several different industries. Contract electrical engineering can allow individuals to work on short-term projects, gain a lot of exposure to various industries, and potentially earn a higher hourly rate than salaried electrical engineer positions. Contract electrical engineering can be a rewarding and lucrative career choice if you enjoy working on various projects, are self-motivated, and have strong technical and problem-solving skills.
Like any career choice, there are pros and cons to consider. Contract positions can offer less job security than permanent positions. Maintaining a consistent workflow can be challenging unless people use engineering service platforms like JOINER Services. Contract engineers may also be responsible for their own benefits, such as health insurance, retirement savings, and taxes.
Demand for contract electrical engineers can also fluctuate depending on the industry, economic conditions, and work location. Therefore, it's essential to research the job market and understanding the potential risks and rewards before pursuing a contract electrical engineering career.
What are the benefits of using a contract electrical engineer?
There are several benefits to using a contract electrical engineer for your project, such as:
Cost savings: Contract electrical engineers are typically paid hourly rates and are responsible for their benefits and taxes. This can result in cost savings for the company, as they do not need to provide the same level of benefits as they would for a full-time employee.
Flexibility: Contract electrical engineers can be hired on a project-by-project basis, allowing the company to be flexible and adjust staffing levels as needed. This can be very useful for companies with fluctuating workloads or those working on short-term projects.
Specialized Expertise: Contract electrical engineers often have specialized skills and industry experience in particular electrical areas, allowing them to provide high-quality work in their specific field. This can be particularly valuable for companies needing in-house expertise and more specialized talent working for the organization.
Layoff Reduction: Hiring a contract electrical engineer can reduce the risk of hiring a full-time employee. If the project is completed or the workload decreases, the contract can be let go without the company worrying about layoffs or severance pay.
Access To Technology: Contract electrical engineers are often up-to-date on the latest industry trends and technology, which can be valuable for companies looking to stay competitive and innovative.
Should contract electrical engineers get certified?
It is important to note that certification is only sometimes required or necessary for contract electrical engineers. It ultimately depends on the specific industry or project requirements. Before pursuing any electrical certification, it's essential to research the job market and determine if it would be a valuable investment for your own career goals. If a person does choose to pursue an electrical certification, it can be beneficial for a person's career for several reasons, such as:
Increased Credibility: Certification demonstrates that the electrical engineer has met specific standards and possesses a certain level of professional expertise. This can increase their credibility with potential clients and employers.
Competitive Advantage: With many electrical engineers competing for contract work, certification can give a candidate a competitive advantage over those not certified.
Enhanced Skills And Knowledge: Preparing for and obtaining certification requires additional training and education, which can enhance an electrical engineer's skills and knowledge. This can make them a more valuable asset to clients or future employers.
Networking Opportunities: Certification programs often provide opportunities for networking with other electrical engineering professionals in the field, which can lead to new job opportunities or work collaborations.
Career Advancement: Certification can open up new opportunities for career advancement, such as higher-paying positions or leadership roles.
Can you work remotely as a contract electrical engineer?
Yes, contract electrical engineers can work remotely. However, whether remote work is possible and how much remote work is available will depend on the specific contract and each client's needs. For most projects, being on-site is necessary, especially for work that requires physical access to electrical equipment or facilities. However, the work may be completed remotely for other projects, especially for tasks such as electrical design work or programming software.
Many companies are becoming more flexible with remote work. Some may even prefer to hire contract electrical engineers who can work remotely, as it can save on office space and other business expenses. However, it's important to note that some clients may prefer to have their contractors work on-site to ensure effective communication and collaboration. Still, it will depend on the specific project and client requirements.
Data Resources:
Check out these other great articles!
Find Engineering Contract Jobs:
More Engineering Service Resources: