What does a contract program manager do?
The contract program manager should possess specific skills to be successful at the job. Those skills include business development, customer service, communication, and analytical skills. A contract program manager will work with a cross functional team as they provide technical services for their clients.
The contract program managers job is to coordinate every aspect of a project. They are responsible for reviewing and appraising contract terms and coordinating deadlines and budgets. In addition, they are responsible for drafting and revising contracts with suppliers and providing guidance and leadership to different teams on a project.
A contract program manager will maintain a strong line of communication with their co-workers to ensure their client's needs are met. Strong communication skills are something all great managers must have because they must communicate the goals with each team member. Contract project managers and those in contract program management will sometimes help their clients develop job descriptions for full-time positions. They might help a client vet individual in related jobs because of their past management experiences.
If a person wants to be a program manager, they will need the following:
Excellent communication skills to relay messages to upper management and team members.
A technical understanding of the product or system.
A strong leadership personality by making good business decisions that co-workers can comprehend and want to follow.
Constantly prepared to provide solutions to a project problem.
Networking with others who help the team move in the right direction.
Keep a budget or write a budget plan.
Experience as a project manager.
How to find contract program managers?
Finding engineering contractors in program management can be difficult if a company needs to know where to look. These individuals often work for consulting firms or are self-employed. They usually have tons of years of experience in a particular field or industry.
Depending on the job type or contract requirements, qualified applicants can assist a company with the following:
Lead a project from the concept phase through the production phase.
Assist with quality control.
Recognize where efficiency can be improved.
Establish a budget and timeline for a project.
Make sure all contracts with third-party suppliers are kept.
Train customers on leadership.
Support process improvement initiatives.
Identify and reduce risk management.
Help with talent acquisition by understanding the preferred qualifications.
If a business wants to look at more than just a resume to find their candidate for a project, engineering service platforms like JOINER Services are available to provide an unbiased source of contract management. Businesses can search contractors by skills, experience, and ratings. They can also read other customer reviews of each project and program managers.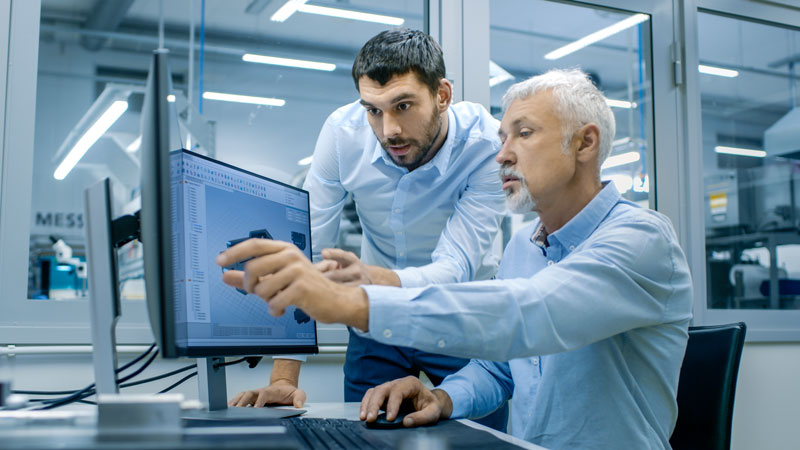 How to become a contract program manager?
The first thing a person should consider if they are interested in becoming a contract manager, in either program management or project management, is their education. Although most contract program managers hold a college degree, obtaining that role without but through years of management experience in the industry is possible.
When researching how to become a contract program manager, it is essential to choose the right major. Usually, a person would choose something in a management field, either a project or program, and then determine if a 2-year associate degree or 4-year bachelor's degree is the best choice for them.
Experience in other roles may also help a person become a contract program manager. Many contract manager jobs require prior experience as a senior, lead, or manager. This role generally comes with many responsibilities that are only sometimes in the job description. Still, it takes years of industry knowledge to understand how to handle each unique situation that may arise.
After years of working in a sector, one may also establish that they no longer want to continue their role at a single company and would like to do contract work. Contract work often pays more but requires travel to most client facilities. Contract managers will work on-site until the successful completion of a program.
Contract work is also a great way to transition in-between jobs if a person is still determining exactly what they want to do in their industry. But, again, the pay is excellent, and it allows them to explore new industries. Managers may also learn a new skill while on contract, as each client location has different processes, new employees, and engineering services to learn.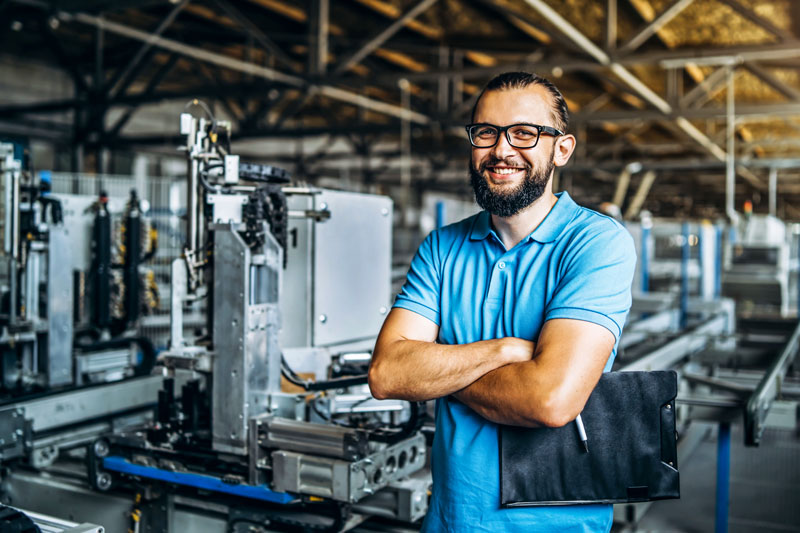 Top skills of a contract program manager.
These contracting professionals will know analytics, computer skills, general business, and, most importantly, people skills. In addition, with every new customer they work for, they will gain more knowledge about managing multiple projects.
These skills will help build a solid professional career in management:
Having control of a project from the start to its conclusion.
Finding a solution for new client problems.
Writing a procedure to have people understand different processes.
Learning how to multitask multiple issues on a single project.
Understand that people are the most critital part of any project.
Monitoring a budget plan with a target of being under budget at the end of a project.
Hitting scheduled client project goals or timelines.
Working with external and internal teams.
Holding team members accountable during the good and bad times.
Evaluate a project at a high level.
Being able to identify qualified individuals quickly.
Record keeping of all changes to a project.
Understanding program status and how to meet client targets.
Contract program manager career path.
People who sometimes take on more responsibility for their career progress might notice that they have taken on more significant leadership roles within their organization. These are often the ones who would be great candidates to become contractors. These contract management professionals, who are self-driven, will be successful candidates for any client.
These people generally enjoy new challenges and are looking to take on a more significant workload that will include a larger wage with the responsibility. Contracting is only for some because it includes long workdays and weekends while often traveling away from a person's home. It, however, is an unusual way to build a resume for younger workers who want to move up quickly in a company.
Those who may be interested in a path down contracting and don't want to work for a traditional contract house now have more choices as self-employed workers, with engineering service platforms like JOINER Services that give a place for individuals to promote themselves as a project manager or program manager, and find new clients in their related field or industry.
Contract Program Manager Salary
According to JOINER Services data, a contract program manager can earn an average wage of $104,000 annually. Working as a contractor, it is common for managers to average around $50.00 per hour. Contract hours vary by location, but generally, they work long hours and can earn an annual wage well above the six-figure mark.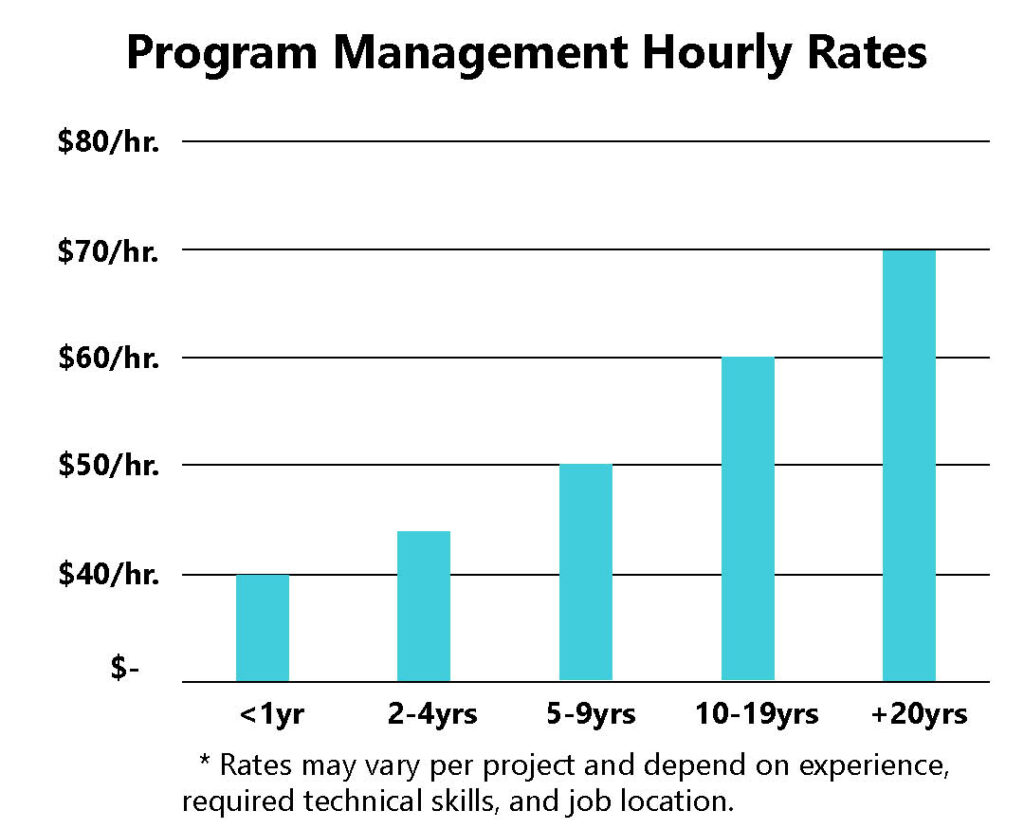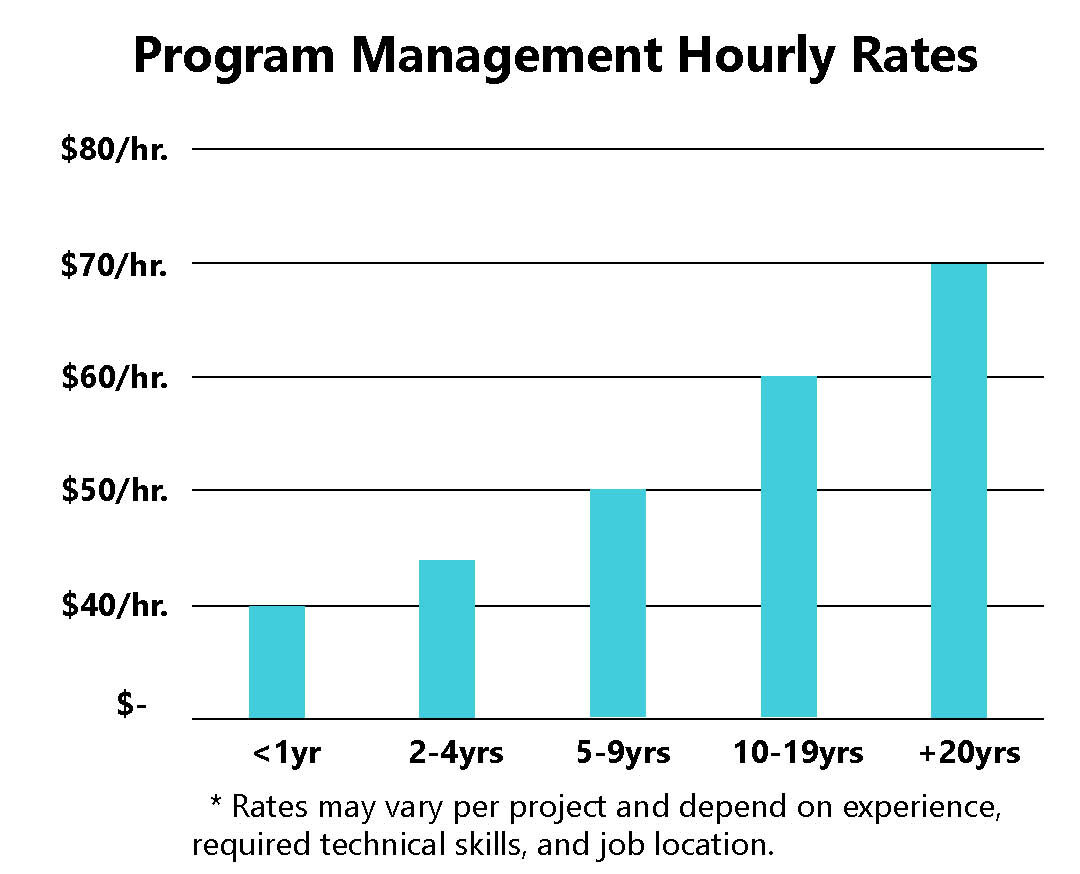 LEARN MORE ABOUT CONTRACT PROGRAM MANAGERS:
What is the difference between a contract program manager and a contract project manager?
While there is some overlap between the jobs of a contract program manager and a contract project manager, there are some key role differences. A contract program manager typically oversees multiple projects, while a project manager is typically responsible for managing a single project from start to finish. A contract program manager ensures that the cross functional team focuses on the overall goals and delivers high-quality work within the scope. In contrast, a contract project manager focuses on delivering the specifics within a project, like finishing on time, budget constraints, and tracking documentation.
Is contract program management a good career choice?
Contract program management can be a rewarding and lucrative career choice for individuals passionate about project management who enjoy traveling, new projects, and making new business relationships. Here are a few reasons why contract program management is a good career choice:
High Demand: As companies increasingly rely on contractors to carry out projects, the demand for contract program managers is growing. This means plenty of job opportunities are available for qualified and experienced professionals.
Great Compensation: Contract program managers are typically paid well, with annual earnings ranging from $80,000 to $130,000, depending on their experience and qualifications.
Variety Of Work: Contract program managers work on various projects across different industries, which can provide an exciting and challenging work experience.
Opportunities For Growth: Contract program managers can progress to higher levels of management and take on more complex projects, which can provide opportunities for professional growth and career advancement.
Can you work remotely as a program manager?
Yes, it is possible to work remotely as a program manager. Many companies and organizations offer remote work opportunities for program managers, particularly in more tech-oriented industries. With the advancement of technology, program managers can effectively manage projects and teams from anywhere in the world as long as they can access the internet and a computer.
It is worth noting that remote work as a program manager may come with challenges, such as maintaining effective communication with team members and the potential for other miss management issues from not being on-site, however with good planning and communication, remote work can be viable for program managers who prefer that flexible work arrangement.
What are the benefits of using a contract program manager?
Using a contract program manager can bring several benefits to an organization, including:
Expertise: Contract program managers are typically highly experienced in project management and have a wide range of technical skills and knowledge. They can bring this expertise into the organization and ensure that projects are completed to meet the client's high standards.
Flexibility: Contract program managers can be hired on a project-by-project basis, allowing organizations to bring in additional contract resources on an as-needed basis. This is mainly beneficial for companies with variable workloads or limited budgets.
Cost Savings: Hiring a contract program manager can be more cost-effective than an organization hiring a full-time employee. The organization only pays for the contract program manager's services without worrying about employee benefits, taxes, or other expenses associated with hiring a full-time employee.
Objectivity: Contract program managers can provide an objective perspective on projects and processes because of their experiences within the industry. They are not influenced by internal company politics or biases, which can lead to more effective decision-making and problem-solving.
Improved Efficiency: Contract program managers are skilled in managing resources and schedules, which can lead to more efficient project delivery. This can help organizations meet their timeline goals and maintain their budget while improving customer satisfaction.
Check out these other great articles!
Find Engineering Contract Jobs:
More Engineering Service Resources: