What does a contract design engineer do?
use computer-aided design (CAD) software to create, test, and improve product structural design and mechanical design. In addition, a contract engineer works to improve the functionality and advancements of a product within the manufacturing process.
A contract mechanical design engineer brings an idea or conceptual design into reality. While on a contract, they usually provide design services from the client's facility, but they have recently been allowed to provide professional services from their home.
Key Responsibilities For Contract Design Engineers.
Below we list the essential items that a design engineer will be responsible for:
Work with project management, electrical engineering, mechanical engineering, and other engineering disciplines responsible for product development.
In CAD modeling software, convert ideas, thoughts, or sketches into models and design prints.
Perform design reviews with engineers to validate the project specification of all design aspects of the project.
Create prototype designs.
Develop design procedures to meet client specifications.
Revise and update designs when new specifications or requirements are presented.
Ensure that all plans and prototypes comply with industry standards and customer guidelines.
Become familiar with many different types of CAD modeling software.
Design safe products, systems, tools, fixtures, work cells, and layouts.
Read prints and schematics of engineering drawings.
Work with modeling and simulation software methods to create more robust designs.
Keep detailed design records and record backups of changes.
These engineers are versatile because of the technical knowledge they will gain working for various clients. Every project will bring unique design challenges from the products, people, and software that will broaden contract design engineers' technical skills.
How to find contract design engineers?
This can be difficult if a company is looking for contract design engineers, as many companies don't know where to turn for help. However, engineering service platforms like JOINER Services make it easy to find and hire temporary engineers contract engineers for any design project.
These designers will have experience in at least one of the following CAD modeling software listed below:
NX
Creo
Catia
SolidWorks
Inventor
If the company's CAD modeling software is not listed above, finding those types of mechanical design engineers may be more challenging. In that case, it may cost more to use that person because of the exclusivity of the CAD modeling software used.
When a company is looking through contract mechanical design engineer resumes, it is often difficult to separate them. It would be more straightforward if companies providing contractors were unbiased about their employees, so one may need to know which mechanical design engineer to choose for a project. Using the JOINER Services engineering service platform, a company can now choose an individual, not a business, to work with. They now have an unbiased resource for finding and hiring talented mechanical design engineers.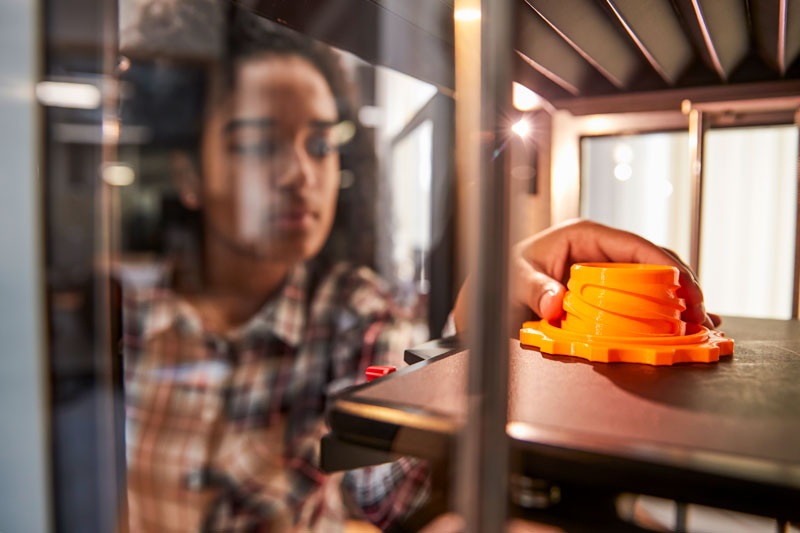 How to become a contract design engineer?
These are the steps to take to become a contract design engineer:
1. Get An Education: 
A degree will be the requirement to meet the minimum requirements for most job positions in contract design engineering. Many will pursue mechanical engineering, computer-aided drafting, or production design engineering degrees. A bachelor's degree is most common among engineers. Still, a master's degree is a good option if they want to become a specialist in a specific type of design engineering. A doctoral degree is generally required to research and teach design engineering students at a university.
Being a designer requires technical abilities in these areas:
Mathematics
Science
Mechanical Engineering
Manufacturing Engineering
Product Design
Electrical Engineering
During their schooling, engineers are often required to work on projects to prove their engineering design abilities. Therefore, to expand their career opportunities and increase their earning potential, those with undergraduate degrees in mathematics or computer engineering will improve their design or manufacturing engineering careers.
2. Build Work Experience: 
Gaining work experience with various products, systems, or equipment can help a person stand out as a contract design engineer. If a person is still in the contract engineering industry and wants to see new designs or technologies. Some good career advice would be to do an internship or volunteer work to gain more design experience.
3. Get A Certification: 
Receiving a CAD modeling certification, an engineering management certification, or another relevant certification to a job-specific engineering field can be very beneficial. In addition, designers can obtain multiple certifications to demonstrate their technical knowledge in various work areas.
Examples of engineering certifications for designers:
4. Search For Open Positions: 
Carefully read the job description to understand the title before applying to any open contract design position. A cover letter should be written explaining why that person is a good candidate for the project. They can tailor a resume to each project opening to stand out from the other candidates. Look at the job posting to see what keywords could be included in the application materials.
Working as a contract engineer is one way to gain many design skills within any industry. This will make anyone extremely valuable to an organization, especially if they want to earn a higher wage.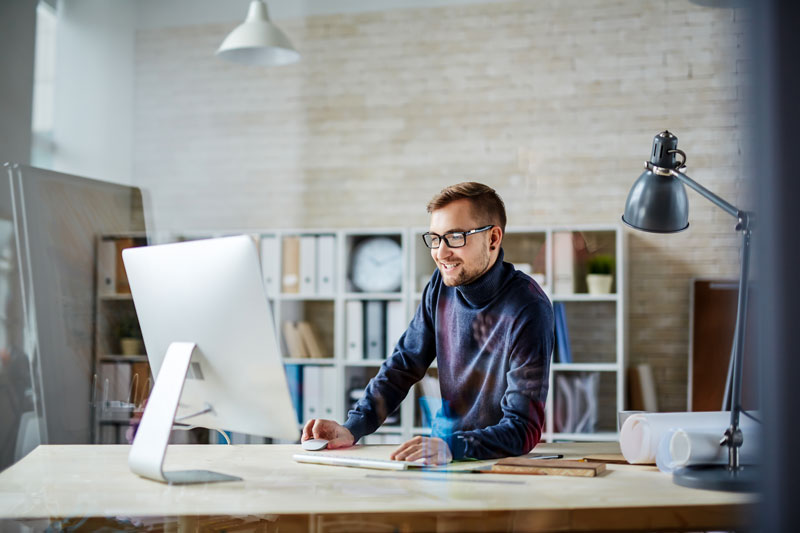 Top skills of a contract design engineer.
Contract design engineers must quickly learn to work with older and different design software at each client location. In addition, the modeling technology will change from client to client, allowing the contract design engineer jobs to become more efficient.
The top skills gained as a design engineering contractor:
Scientific and Mathematical Skills: Designers use complex CAD software to design their products. They also need specialized equipment to create prototypes. The better they understand their clients' raw materials, equipment, systems, products, and processes, the better the CAD software tools will help them design.
Creativity: While design engineers may use science and technology to create their ideas, they still need to rely on their creativity, ingenuity, and patience to solve design problems.
Technical Skills: This job requires proficiency with design software(s) and other drafting programs. Depending on the industry, technical knowledge of specific manufacturing equipment is also helpful.
Analytical Thinking: A design contractor must constantly modify small details, or system flows that could impact the end product or user. Therefore, each task requires careful analysis to identify problems, troubleshoot, develop, and implement solutions.
Time Management: Design engineers can manage one product or all of its mechanical design components. These engineers must be able to prioritize tasks, set deadlines, and meet timelines to complete work.
Listening and Communication: A design engineer reviews ideas and requests from other engineering disciplines like; research and development, engineering, sales, and marketing and turns those ideas into physical reality. To understand design requests, they must be able to listen and process conceptual design well. They should also be able to communicate technical details of mechanical design to non-technical coworkers.
Collaboration: Designers work with all aspects of a product, system, or part. Therefore, they should delegate, accept responsibility, and share ideas easily to meet the client's specifications or requirements.
Contract design engineer career path.
Contracting as a career can be very rewarding for most design engineering professionals. They will work on many unique projects and use different types of CAD software to design, model, and build parts. In addition, they will experience change often, which helps keep a person's mind sharp and develop their skill.
These are just a few examples of where designers can find work contracting:
Companies that sell computer hardware or software.
Aeronautical and aerospace companies.
Companies that manufacture medical equipment and pharmaceuticals.
Automotive manufacturing companies.
Industries of electronics and consumer goods.
Shipbuilding companies.
Manufacturers of home goods.
Research institutions.
Utilities and power companies.
Food and beverage companies.
Pharmaceutical companies.
The market for contract engineers has a wide range of clients. These jobs can provide large amounts of data for anyone looking to build an incredible design portfolio. Contract designers could work on hundreds of different products, in only a few short years, compared to someone who only works for one company and knows one product line.
Contractors in the engineering service field have a great chance to excel, especially if they are in-between jobs or just starting their careers. Discovering work as a contract engineer has never been more accessible with engineering service platforms like JOINER Services. They provide a simple way to link customers looking for skilled mechanical design engineering contractors.
Contract Design Engineer Salary.
According to JOINER Services contracting data, a design engineer's average salary is $93,600 annually. As a contractor, it is common for designers to make, on average, around $45.00 per hour. Most contract jobs are paid by the hour, not by project. Most contract designers can earn more than the national salary average, depending on overtime requests. A senior mechanical design engineer with years of experience in different software and product lines can easily earn over $100,000 a year.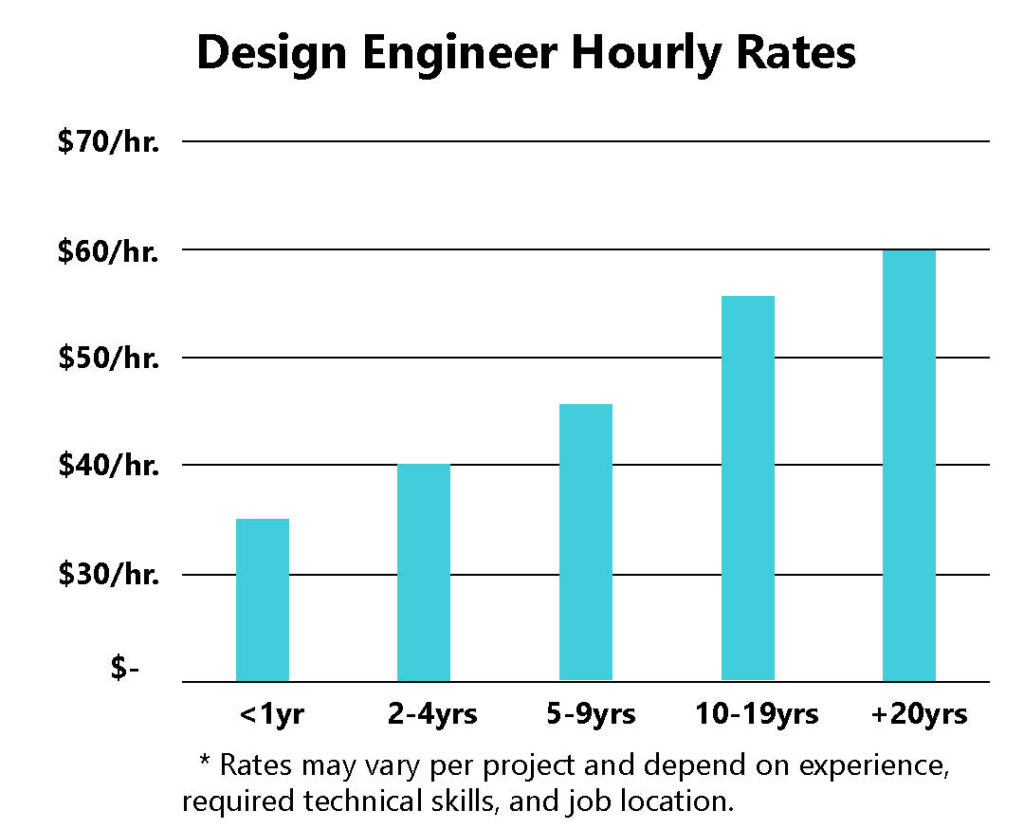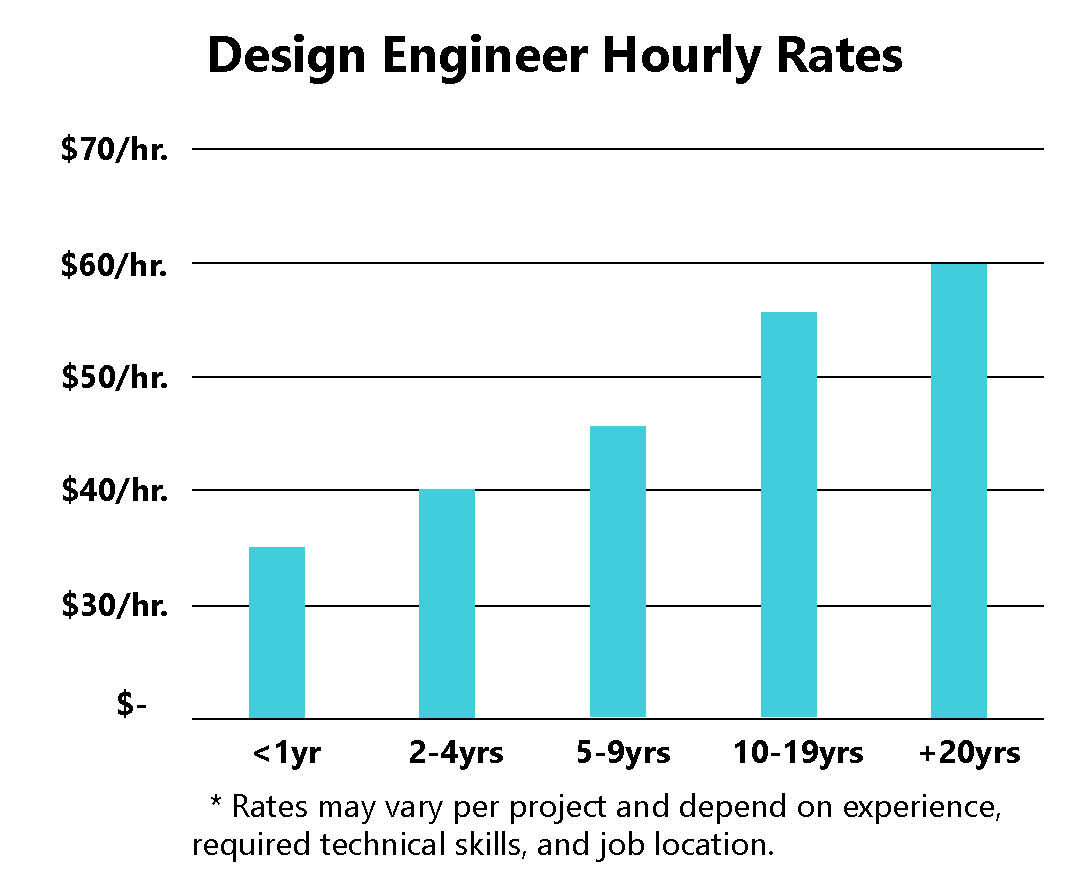 LEARN MORE ABOUT CONTRACT DESIGN ENGINEERING:
Is contract design engineering a good career choice?
Contract design engineering can be an advantageous career choice for creative individuals passionate about design and willing to learn new CAD modeling software. As a contract design engineer, you will create and implement engineering designs for various projects, often collaborating with other engineering professionals such as mechanical, electrical, and software engineers.
A significant benefit of a career in contract design engineering is the variety of projects and industries you can work in, ranging from aerospace and automotive to construction and electronics. This can provide opportunities for learning and growth throughout your career.
Like any career, there are many challenges and potential drawbacks. For example, contract design engineering can be a high-pressure job with tight client deadlines and may require long hours or extensive travel to work on-site with the client. Additionally, job security as a self-employed design engineering contractor can be a concern if contracts are not renewed or if the industry experiences a downturn, it can be hard to find work.
Deciding whether or not to pursue a career in contract design engineering will depend on your interests, skills, and priorities. Contract design engineering may be a good fit if you enjoy problem-solving, have design talent, and thrive in stressful environments. Researching the industrial design industry, speak with engineering professionals, and consider your long-term goals before deciding if contracting suits you.
Can you work remotely as a contract design engineer?
Yes, it is possible to work remotely as a contract design engineer. Recently there has been an increase in the trend of outsourcing design work to remote contractors. With technological advances, many design engineering tasks, such as drafting, modeling, and simulation, can be done entirely remotely with clients and other team members. This can provide greater flexibility and work-life balance for contract design engineers who prefer to work from home or other remote locations.
The ability to work remotely may depend on the specific project or contract you are working on, as some clients may require in-person collaboration or on-site work. Plus, some contract design engineering positions may require travel, which may not be compatible with remote work.
It is also important to note that remote work can come with challenges, such as potential communication barriers, limited access to equipment or resources, and difficulty maintaining focus on the project. It is essential to carefully consider your preferences and priorities before pursuing a remote contract design engineering position.
What are the benefits of using contract design engineers?
Below we list five benefits of using contract design engineers:
Expertise and Specialization: Contract design engineers bring specialized knowledge and expertise to a project, enabling companies to bring in more technical skills and knowledge than they might have in-house. They can also bring experience from various industries and projects, allowing for a fresh perspective and new creative ideas.
Cost Savings: Using contract design engineering, companies can avoid overhead costs often associated with hiring and maintaining a full-time engineering staff, such as salaries, benefits, training, and equipment costs. They also can hire contract engineers only when needed, allowing companies to control the project budget more effectively.
Time Savings: Contract design engineers can help you meet project deadlines by providing additional resources and expertise, allowing you to complete projects more quickly and efficiently.
New Technologies: Contract design engineers are often the most up-to-date with the latest design engineering tools and modeling software. This enables them to design solutions quickly and effectively.
Reduced Risk: Contract design engineers will help reduce risk by providing an outside perspective on your project and identifying potential issues or problems that may not have been identified otherwise. They can also provide expertise in areas your in-house team may need to become more familiar with, reducing the likelihood of errors or mistakes.
Where to find contract design engineering jobs?
There are several ways to find contract design engineering jobs:
Job Search Websites: You can search for contract design engineering jobs on popular job search websites such as Indeed, ZipRecruiter, and Glassdoor. These websites allow you to filter your search based on location, industry, and job type.
Engineering Staffing Agencies: Contract design engineering jobs are often filled through staffing agencies. These agencies specialize in matching skilled professionals with companies that need their services. Some popular staffing agencies for engineering jobs include EnG Design, Classic Design, RCO Engineering, Inc., and Design Systems, Inc.
Networking: Networking is an effective way to find contract design engineering jobs. Attend design industry events and conferences, and connect with other design professionals on LinkedIn. You can also join professional organizations such as The American Society of Mechanical Engineers (ASME) to expand your network.
Engineering Service Platform Companies: Many companies, like Upwork, Freelancer, or JOINER Services, offer a new way for contract design engineers to find work through their online engineering service platforms. These places offer a place for contractors to build personal profiles, showcase their talents, and apply for open projects. Clients can also view contractor profiles and request that they work on their projects.
MORE ENGINEERING CONTENT:
More Resources for Engineering Contractor Jobs:
Take a Look at the Engineering Contractor Careers that JOINER Services Can Help You With:
Data Resources: