welcome to joiner services
JOINER News
Contract Engineer Jobs: A Career of Opportunities
Many engineers in the workforce spend large portions of their time sitting behind a desk, working on a single project for months or years, reviewing paperwork, or sitting through multiple meetings every day. When asked if they enjoy their work, many will say, "I'm bored;" or "I'm not being challenged;" Let's take a look at what contract engineer jobs have to offer.
There is never a dull moment in the contract world!
Many choose to work as a contract engineer because of the challenging new projects and the uniqueness of each work location. Contract engineers are always having their technical skills tested while simultaneously learning and developing new skill sets to offer to future employers. Contracting is a great way to start a career and build a solid foundation of knowledge in any industry.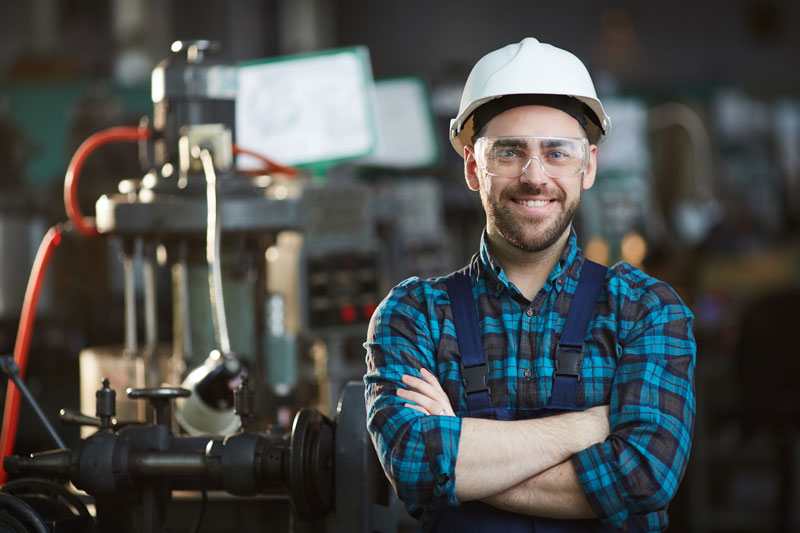 Benefits of contract engineer jobs:
Engineering contractors enjoy the benefits of a better work/life balance as many are able to take weeks-long vacations or extended breaks from work upon the completion of a project. Some choose the path of a contract engineer because it affords the financial benefits of the overtime, along with the ability to take longer leaves of absence compared to working 9 to 5 for a company as a salaried employee. Many engineers choose to become contractors because of the vast range of experiences they can acquire in a relatively short amount of time to boost their professional careers. Now with the help of companies like JOINER Services, self-employed engineering contractors are able to build a larger customer network and find more jobs.
Advantages of contract engineer jobs:
Get to work on new projects
Often the projects are hands-on
Goals and tasks change depending on the customer
Always working with new people
Encounter new challenges with every company
Learn new equipment or processes
You get to travel
Gain vast amount of experience in a short amount of time
Can request longer time off after a project is completed
When considering a career in contract engineering its important to think about what your interests are and find a job doing something you truly enjoy. Many contract engineers love their jobs but the work is often difficult and at times it can be extremely stressful.
Popular types of automation related contract engineering jobs:
Average hours worked on most contract engineer jobs:
The average contract engineer works between 50-60 hours per week depending on the project, timeline, and workload. Their time "on the clock" doesn't include the time spent driving to and from work, but it does include the time that the engineer spends at the customers facility. Customers often require the contractor to work more than 8 hours a day, in order to meet the required project timeline. Many times, engineering contractors can work up to 12 hours a day, for several weeks at a time, before they get a day off.
Average work days for most contract engineer jobs:
Many times, projects must be completed on the weekends, in order to not disrupt the weekly production requirements. Contract engineers will support the manufacturing lines throughout the week and usually make manufacturing changes on weekends. Contract engineers will work on average more than 5 days a week and can end up working 7 days a week to meet customer deadlines.
Average contract engineer salary:
According to ZipRecruiter, the average contract engineer salary is just over $100,000 per year. Many contract engineers with a vast knowledge base and years of experience in their fields can earn well above a six-figure annual income.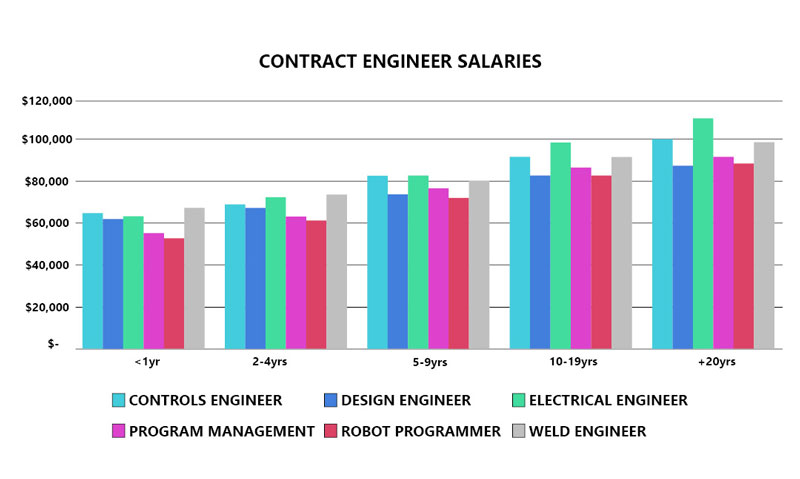 W2 employee's vs 1099 workers:
For most positions, contract engineer jobs are paid by the hour plus overtime, but self-employed contract engineers (1099 workers) are paid a much higher flat hourly rate. If a contract engineer works for a contract house (W2 employee), the hourly rate may be set by the company. A 1099 self-employed engineering contractor earns a flat hourly rate that can vary by project, location and required skill set, but earns a much higher hourly rate than a contract house employee.
Wage increases as a contract engineer:
An engineer who has been with one company for a several years may see minimal overtime or annual wage increases (1-3%). A contract engineer can gain a lot of experience in a short amount of time with plenty of overtime, depending on the project workload. Companies are often more willing to pay contractors for overtime because they know it is temporary. Because contractors acquire valuable experience from a variety of projects, many of them earn well into the $100,000 range, due to the vast knowledge many of them have within their respective industries.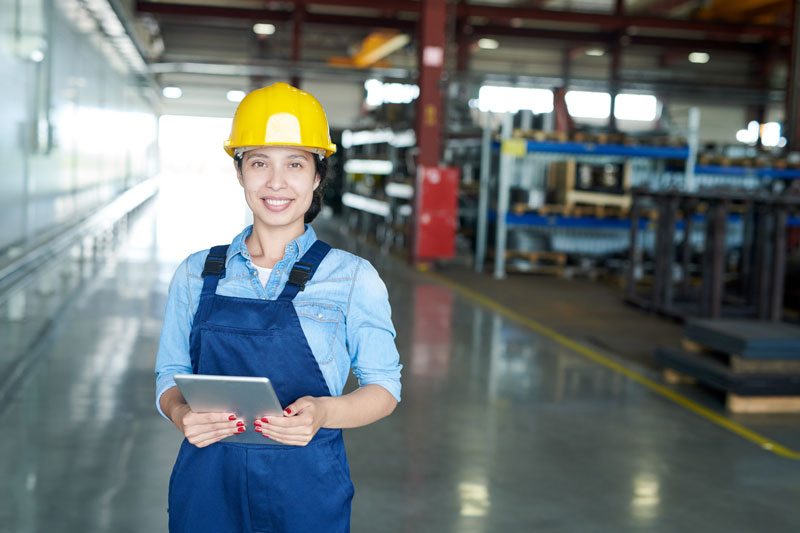 How much experience is required to be a contract engineer?
Experience is one of the most important aspects of contract engineering work. It is vital to showcase individual talents and expertise to prove one's qualifications for a project, whether applying for a contract to permanent hire position or if you are just working for a customer temporarily. It's important to list any certifications you have acquired as well as additional training you have received. Generally, no experience level is too little because many customers are looking to add a specific number of engineers to a project with a lead engineer who will guide the group to completing the project. Your area of expertise may be just what a customer needs for their project.
For instance, some projects require you to be proficient in reading specification code books while others require some knowledge of understanding programmable logic controls. You'll typically find that larger engineering firms hire many engineers to handle different tasks depending on experience, while some smaller companies may need a contractor who has multiple skill sets to complete a project.
How long can a contract engineer expect to work on a project?
Depending on the contract, some projects have a specific completion date while others can be open ended. On the short end, emergency projects can last anywhere from one day to a week. However, these contracts are typically paid at a very high hourly rate because generally something is wrong and the customer needs it to be addressed very quickly. On the longer end, a project could last a year or more. The hourly rate may be lower, but the contractor has the comfort of steady income for the year.
Want to learn more about life as a self-employed contract engineer?
Visit our Career Page to learn more about the benefits.